Pixar Announces New Films, Reveals New Brave Footage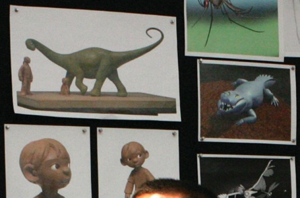 At Disney's D23 Expo last weekend, Pixar announced two original films, one set for 2013 and the other for 2014. The first is an untitled film that explores the hypothetical situation of an alternate earth where dinosaurs never went extinct. The film's small amount of concept art hints that the film will depict a reality where humans and dinosaurs co-exist. The unnamed dinosaur film will be the directorial debut of Bob Peterson, who wrote both Up and Finding Nemo (and if that's not a good resume, we're not sure what is).
While a film about dinosaurs seems like a predictable fit for the animation studio, the second film they announced is a bit more mysterious. Set to be directed by Pete Doctor (another upcoming Pixar talent), the film was announced to be about a psychoanalytic understanding of the human mind. In one interview, Doctor says the film is about "why certain songs get stuck in our head" and calls it "wildly ambitious." The announcements come off the backlash of the first critical bomb by Pixar, Cars 2. In a season of an unprecedented amount of sequels for Pixar, the new films look to recall the studio's award-winning ambition and heartfelt storytelling.
Pixar also revealed new footage of their summer 2012 title, Brave. The film is Pixar's first fairy tale-related story as well as their first film to feature a female character as the primary protagonist. Along with the new Brave footage, Pixar announced some new plot details for Monsters University, their summer 2013 prequel to Monsters Inc. Monsters University will detail Mike and Sully's experiences at the University of Fear, where they go from being rivals to best friends.
Got news tips for Paste? Email news@pastemagazine.com.