Primus Releases First New Material in 11 Years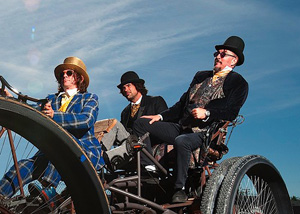 It may sound surprising that wacky bass virtuoso Les Claypool's flagship funk-metal trio Primus hasn't come out with anything new in over 10 years—but that's because in the meantime Claypool hasn't exactly strayed from the public eye.
Since Primus went on hiatus in 2000, he's immersed himself in touring with his own Flying Frog Brigade, starred in a multitude of supergroups (most notably Oysterhead and Colonel Claypool's Bucket of Bernie Brains) and, from 2003 on, played the occasional show with Primus.
Yesterday, however, Spin announced that Claypool and company had finally broken the decade-plus silence and dropped a new single as a prelude to their forthcoming album Green Naugahyde. The song, "Tragedy's A-Comin'," is a lyrically apocalyptic funk-metal workout that's very much in step with their heavy, dissonant style of the '90s and proves that Primus still "sucks."
Fan response thus far has been divisive, with some deriding it as a masturbatory retread of Claypool's recent work and others praising it as a return to the band's glory days. For his part, Claypool agrees with the latter, offering typically bizarre comparisons of his band to a compost heap: "Like a good compost, we needed to ferment and turn the manure and garbage into fine, nitrogen rich dirt."
Stream the song here.
Got news tips for Paste? Email news@pastemagazine.com.
Others Tagged With