World War Z Adaptation Angers Fans of Book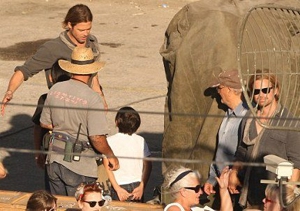 Fans of the post-apocalyptic zombie book World War Z are already calling the movie a failure. The novel was released by Mac Brooks in 2006 with the subtitle of "An Oral History of the Zombie War." It takes place after a war that wiped out most of the world's population and recounts characters' opinions and stories from the war with the notion that they have seen how it all unfolds and what comes after it.
When the film was announced to be produced by Brad Pitt's production company, Plan B, casual fans of the book and of the actor were enthused, but fanboys seemed skeptical. Once photos of the Marc Forster-directed adaptation surfaced, worries began to ease. The rest did not last long, however, because as plot details of the movie became known, it was clear that this was a very loose adaptation.
The official synopsis reads:
The story revolves around United Nations employee Gerry Lane (Pitt), who traverses the world in a race against time to stop the Zombie pandemic that is toppling armies and governments and threatening to decimate humanity itself. Enos plays Gerry's wife Karen Lane; Kertesz is his comrade in arms, Segen.
Because the story has been adapted to take place during the war, message boards have lit up with complaints that the film will take the most intriguing part of the story away. Gone is the characters angst and sense of survivalist living. Instead it has been replaced with what many fans are calling just another zombie movie.
The film will be released on Dec. 21, 2012 by Meteor Pictures and Paramount Pictures.
Got news tips for Paste? Email news@pastemagazine.com.
Others Tagged With