Amid Internal Band Drama, Bloc Party Is Still Together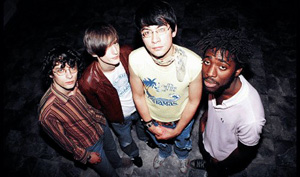 Various reports have begun surfacing that Bloc Party's charismatic lead singer Kele Okereke may have been fired from the band. A week ago, he told NME that rehearsal sessions had been going on without him and he feared he had been kicked out:
I was actually having lunch about three weeks ago, just here on 8th Avenue and I saw somebody walk past and I recognised the haircut. It was Russell [Lissack, guitarist]. I was like, "Hey!" but he didn't see me and I followed him around the corner and then I saw Matt [Tong, drummer], Gordon [Moakes, bassist] and Russell all standing outside this rehearsal space. They all went inside.
As recently as this morning, NME reported that the remaining three members of Bloc Party were indeed continuing without Okereke, citing a lack of frequent communication between the band and singer in addition to Okereke's focus on his solo career (his EP The Hunter drops Nov. 7). Lissack stated, "We were talking about just doing an instrumental thing, but now we might get a singer as well, to properly put some music out and play some shows."
It seemed written in stone that the original Bloc Party lineup that produced the acclaimed debut Silent Alarm and more recent albums A Weekend in the City and Intimacy was no more — until a short message was posted on Bloc Party's website. The message simply stated, "Bloc Party is still Bloc Party," followed by "See you soon" and accompanied by a Simpsons-style drawing of the band, Okereke included. Looks like the boys managed to settle their disputes and will likely be moving forward with a new album, though no other specific details have been announced yet.
Got news tips for Paste? Email news@pastemagazine.com.
Others Tagged With