Coldplay Unveils Tracklist for New Album, Releases Second Single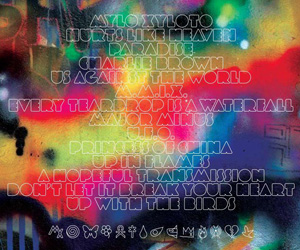 On Friday, a dazzlingly colorful image appeared on Coldplay's Facebook page listing the finalized list of tracks from the British superstars' forthcoming fifth LP, Mylo Xyloto.
Comprising 14 songs in all, two of the three cuts from this summer's digital EP, "Major Minus" and lead single "Every Teardrop Is a Waterfall," were included — to many fans' disappointment, "Moving to Mars" was absent from the list. The bigger surprise is that Rihanna, of all people, will feature as a guest vocalist on "Princess of China."
The same day, Coldplay announced the arrival of Mylo Xyloto's second single, "Paradise," which was released today on iTunes. The song is a characteristically lush, orchestrated midtempo number with lumbering, heavily treated drums and an emotional string arrangement. Chris Martin, who cites early Blur as the song's chief inspiration, delivers a hooky falsetto chorus consisting of the repetition of "para-para-paradise," lacing the Brian Eno-treated sea of sound with an lighter-than-air pop sheen.
Mylo Xyloto is slated for a worldwide release on Oct. 24. Check out the new single "Paradise" below:
Track listing for Mylo Xyloto:
1. Mylo Xyloto
2. Hurts Like Heaven
3. Paradise
4. Charlie Brown
5. Us Against the World
6. M.M.I.X.
7. Every Teardrop Is a Waterfall
8. Major Minus
9. U.F.O.
10. Princess of China
11. Up in Flames
12. A Hopeful Transmission
13. Don't Let It Break Your Heart
14. Up with the Birds
Got news tips for Paste? Email news@pastemagazine.com.