Fucked Up, Tokyo Police Club to Perform "Smells Like Teen Spirit" 144 Times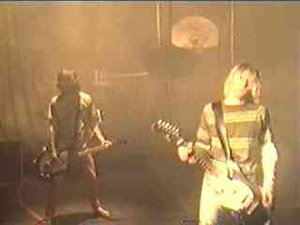 Nostalgia for Nirvana's Nevermind is understandably high right now in the music world, as 2011 marks the landmark rock album's 20th anniversary. In celebration, artists everywhere are paying their respects to the record and its songs in their own ways.
But the most extravagant tribute announced so far will occur Oct. 1 in Toronto, where artists from a multitude of bands will gather together and perform the grunge band's smash hit "Smells Like Teen Spirit" 144 times in a row. Yes, you read that correctly—we didn't accidentally hit the "4" key twice.
As part of a performance entitled "A Brief History of Rebellion," which will be held at the Toronto Underground Cinema, members of experimental punk collective Fucked Up, indie-rock band Tokyo Police Club and other up-and-coming groups like Woodhands and The Flatliners will all rotate with one another and perform the staple '90s anthem ad nauseam.
Audience participation will be encouraged, and it's rumored lyric sheets for the song will be available for those who want to sing along—as if you need to know what the words really are and couldn't pass for singing it by slurring the whole thing just like Kurt Cobain did.
The idea of this sort of spectacle may revolt those already sick of the song due to its two-decade oversaturation: The likely reason Fucked Up, Tokyo Police Club and company are doing this in the first place is to further overkill a song that's already been done to death. Who knows? Maybe the musicians will do a bunch of jamming or stylistic interpretation to spice things up.
In addition to this homage-to-end-all-homages to Nirvana's biggest hit, other Nirvana events are in the air, including a performance of Nevermind in its entirety by original bassist Krist Novoselic and other Seattle musicians on Sept. 20, some reissues, a deluxe box set, and even a custom Kurt Cobain Fender guitar.
Got news tips for Paste? Email news@pastemagazine.com.
Others Tagged With