Jimi Hendrix: Hendrix in the West
[Experience Hendrix/Legacy]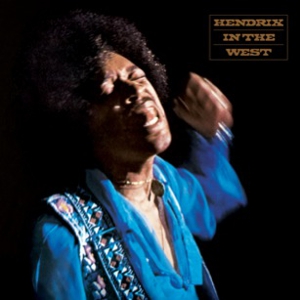 It's easy to feel surfeited on Jimi Hendrix releases. His live performances were exceptional, but we've now had enough material released that it seems every hammer-on has been covered. Given the original 1972 Hendrix in the West release doesn't contain a complete set and that the individual recordings have shown up elsewhere, it seems a strange reissue choice, but the disc holds up, offering insight into Hendrix's playing.
The posthumous collection nabs Experience performances mostly from 1969 and 1970, and completists should note that there are five newly released tracks including, due to legal reasons, replacement versions of "Voodoo Child (Slight Return)" and "Little Wing" (the lone '68 cut). Although the music comes from a variety of shows, the album is surprisingly coherent, from the true opening of his "God Save the Queen" and "Sgt. Pepper's Lonely Hearts Club Band" mix to the closing "Voodoo Child."
Even so, putting these performances in context shows how much Hendrix was toying with his sound. On stage, the Experience is far less spacey than on their previous studio album, Electric Ladyland, but Hendrix isn't nearly working with the sort of funk that he'd been using on the New Rising Sun sessions around that time. Likewise, these tracks sound unlike the aggression of the Band of Gypsys live album recorded in the middle of this era. This release documents his playing in flux.
Even within these tracks, Hendrix is stretching himself. The newly added "I Don't Live Today" shows him in a manic attack mode, while both "Johnny B. Goode" and "Blue Suede Shoes" allow Hendrix to playfully reinterpret old rock 'n' roll in his developing aesthetic. On both covers, Hendrix uses a style choppier than the more melodic playing on the rest of the disc, matching his vocals to that approach.
"Red House" provides the disc's highlight. Often cited as the preeminent version of the song, it holds up to the acclaim. The group, particularly Hendrix, leaves space in its playing, leaving "Red House" as the cut with the most air. The result isn't a minimal blues take; Hendrix gradually fills the sound, and his solo gradually but radically alters the blues style, creating a sense of formal dissolution before the song reorganizes for its ending. We see Hendrix fully rooted in the blues, but we also see those roots as merely a form to be expanded and not adhered to.The assertion of the playing combined with the psychological disorientation gives this performance a particular emotional weight.
The availability of this music elsewhere keeps this release from being truly essential. However, with such strong performances, Hendrix in the West stands as an entertaining listen even in a catalog overwhelming in live releases. Maybe just as importantly, it quickly musters evidence of Hendrix's experimentation even within a given aesthetic and bridges key works in his discography.
Others Tagged With