Jimmy Fallon to Host Week of Pink Floyd Tributes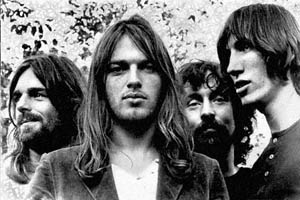 Yesterday Billboard announced that next week, comedian and music enthusiast Jimmy Fallon will pay special tribute to Pink Floyd. And he isn't just dedicating one Late Night with Jimmy Fallon show to the band — he's setting aside the entire week.
Among the confirmed acts who will cover songs from Pink Floyd's diverse catalog are Pearl Jam, The Shins, Dierks Bentley and MGMT, the latter of which will pay homage to the band's earlier, Syd Barrett-led years. Most surprisingly, the Foo Fighters will be joined by Pink Floyd bassist and conceptual leader Roger Waters during their scheduled performance of the classic The Wall song "In the Flesh." Waters and the post-grunge band have never performed together before.
The week will sync up with the unveiling of Why Pink Floyd?, an exhaustive campaign that includes the remastered re-release of all 14 of the band's albums among other unreleased material from their vaults, including a special six-disc "Immersion" edition dedicated solely to their watershed album The Dark Side of the Moon. Why Pink Floyd? will kick off Monday.
Fallon will have the opportunity to interview not just Waters on Tuesday (the same night he performs with the Foos), but also drummer Nick Mason, who will be making an appearance on Monday's show.
The Pink Floyd tribute schedule for next week's Late Night with Jimmy Fallon is as follows:
Monday
The Shins — performing "Breathe" from The Dark Side of the Moon
Nick Mason — interview
Tuesday
Foo Fighters & Roger Waters — performing "In the Flesh" from The Wall
Roger Waters — interview
Wednesday
MGMT — performing "Lucifer Sam" from The Piper at the Gates of Dawn
Thursday
Dierks Bentley — performing "Wish You Were" from Wish You Were Here
Friday
Pearl Jam — performing "Mother" from The Wall
Got news tips for Paste? Email news@pastemagazine.com.