Langerado Canceled Once Again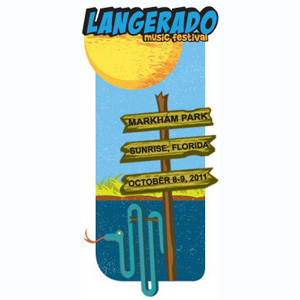 Langerado appears not to have eluded its recent curse: On Saturday, Boros Entertainment announced the cancellation of the 2011 festival, which was supposed to be held Oct. 8-9 at Markham Park in Sunrise, Fla.
The festival hit its peak of popularity in 2008 when it was held at Big Cypress Seminole Indian Reservation in the Everglades, featuring enormous campgrounds and an all-star lineup including Phil Lesh & Friends, The Beastie Boys and R.E.M. But in 2009 the festival's organizers tried to capitalize on its success and move it to downtown Miami, thereby turning it into a more commercial non-camping festival similar to Lollapalooza or Austin City Limits. Coupled with an underwhelming roster of artists, fan backlash was severe and ticket sales were poor, which led to its cancellation.
Langerado's fate was similar this year, give or take a few additional factors. Though Markham Park had hosted Langerado in its earlier years, many festival-goers still viewed it as a downgrade from Big Cypress in '08. It offered camping, but it was only revealed several months after the initial announcement, and there were a meager 88 spots available, leaving the majority of prospective attendees in the cold. The festival was scheduled for the same day as Yom Kippur, no less in an area with a large Jewish population. Many fans complained about the festival's poor planning and organization.
Boros Entertainment has promised a full refund to all who bought tickets to the event.
Got news tips for Paste? Email news@pastemagazine.com.