Modern Family Review: "Dude Ranch" and "When Good Kids Go Bad" (3.01 / 3.02)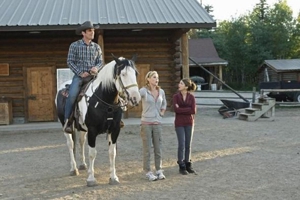 Modern Family dominated last week's Emmy Awards with the family comedy winning five throughout the evening. Julie Bowen won for Outstanding Supporting Actress in a Comedy Series, besting costar Sofia Vergara. Bowen's TV husband Ty Burrell also picked up his first Emmy for Outstanding Supporting Actor in a Comedy Series, beating out nominated co-stars Ed O'Neill, Jesse Tyler Ferguson and Eric Stonestreet. The show also picked up awards for writing, directing and a rather anticlimactic award for Outstanding Comedy Series. The repetitive winning caused host Jane Lynch to quip: "Welcome back to the `Modern Family' award show. We've decided to throw them into the drama category and see what happens."
ABC capitalized on its good fortunes by kicking off the show's third season with two new episodes back-to-back on Wednesday night. There was a lot riding on these episodes—they had to be good and live up to all that hype. Critics and audiences were waiting to knock the winners down a notch or two.
The first episode, "Dude Ranch," follows the Dunphys and Pritchetts on a vacation to Jackson Hole, Wyoming. (And we immediately thought of other comedies that brought the show on location, e.g., The Brady Bunch in Hawaii or Fonzie in Hollywood, literally jumping a shark.)
But the episode proved the doubters wrong—it's rife with great gags, jokes and one-liners. The banter between characters remains in top form. Cameron and Mitchell explain to the audience that they're going to adopt a second baby—a boy. "You might say we're buying domestic," says Cam. "You might say that in private," Mitch corrects. They duo are hoping that the dude ranch will allow them to "man up" their adoption application.
The episode's major storylines played on the title, exploring the flaws and foibles of the menfolk. Mitchell freaks out because he can't do the manly things like shooting, riding and roping. He worries about raising a boy and disappointing two generations of his family, he confesses to husband Cam.
"If I was going to raise a boy, I needed to butch up my life," says Mitchell. "I wanted to teach my son all of the things my dad taught Claire."
And Phil keeps sticking up for Haley's hapless boyfriend Dylan, tagging along on the family vacation, much to Claire's displeasure. Phil finally explains that he's nice to Dylan because he knows what it's like to be "that guy." Jay doesn't approve of Phil, thinking that Claire could have done so much better. Phil swears that Jay even taunts him by calling him "Phyllis." As in "Phyllis, my son-in-law as opposed to Phil IS my son in law."
In their own way, the men of Modern Family find a way to grow a pair. Mitchell takes pride in blowing up a birdhouse with Luke; Jay tells off the cowboy hitting on Gloria; Dylan has an epiphany in the woods and becomes a ranch hand; and "Phyllis" finally shoots its straight with Jay.
"There hasn't been a day that I wasn't a loyal husband to your daughter and a great dad to your grandkids," he says firmly, yet earnestly. "If you still got a problem, now it's your problem." It's a line delivered with heart—and aside from all the funny business, that's exactly what the show's all about.
The second episode "When Good Kids Go Bad" returns the family back home, where this time, the focus is seemingly on the show's kids: Lily (who aged rapidly over the summer into toddlerhood) is not happy with the possibility of a baby brother, uttering phrases like "kill baby"; Haley and Alex "trick" Luke into moving into the attic so that they can have their own rooms, and Manny is having a crisis of conscience after stealing a girl's necklace at school.
But lest we forget, Claire and Mitchell are also Jay's kids, and the episode also reveals why Claire always has to be right as well as Mitchell's issues with sharing.
At first, Lily's anti-baby stance is blamed on Cam's over-coddling, but later, Mitchell realizes that she probably picked up his own habit of not sharing things. He doesn't tell Cam this discovery because there are only so many parenting issues that Mitch wins: "I'm distant…My French braiding is 'sloppy,'" he deadpans to the camera.
In another hilarious scene, Jay interrogates Manny gumshoe style in the garage. With the suspect under the heat of the swinging lamp, the boy confesses to taking the girl's locket. In a nice touch, Manny busts out a white handkerchief, wiping the sweat from his lip and brow.
And finally, Claire goes to great lengths to prove to her family that she was right about an incident in the grocery store. (Her family has been teasing her the entire episode about how she can never admit to being wrong.) Phil says she fell into a display of canned peaches, while Claire insists that he pushed the cart into her, which caused her to fall into the peaches. She says she tracked down the grocery store manager, which led her to a security company who made her sign forms for the release of the tapes. She screens a showing at a family gathering—telling them all to "SUCK IT!"—with her husband and kids horrified at her compulsion on being right.
Also during the family gathering—which includes sparklers, a banner and "Let's Hear it for the Boy" from Footloose as part of Mitch and Cam's adoption announcement—Jay also extracts another confession from Manny and Gloria. They never told the principal about Manny stealing the locket, merely breaking into and replacing the necklace in the locker.
In a pitch-perfect ending, Jay yells, "I was right!" To which the entire ensemble merely responds, "Aaaah." They finally all realize why Claire always has to be right.
It runs in the family.
These two episodes prove that those Emmys were well-deserved. Modern Family is probably the best comedy ensemble on TV right now. With or without gorgeous scenery or exotic locales, the show makes it work by focusing on family issues that we can all relate to. And since it's not our own family, it's okay to laugh.
Let's hope the writers and cast can keep this winning streak alive throughout the rest of the season.
Others Tagged With