Polyvinyl Celebrates 15 Years with Concert, Sampler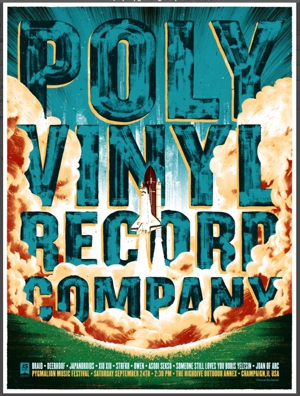 From their humble beginnings as a fan-zine, Polyvinyl Record Company has always kept their DIY mentality. Matt Lunsford and Darcie Knight started the project while they were still in high school as a way to talk about bands that they loved in the Champaign-Urbana, Ill. area.
We spoke to co-founder Matt Lunsford about the journey the label has taken and what it means to survive a decade and a half in the record label industry.
"We started putting on DIY shows and selling records at shows," Lunsford explained of their 1994 origins, "We sort of realized that putting records out was the most efficient way to get the word out about bands we loved so we started putting out a couple of records."
The duo started expanding one tiny building block at a time until they put out a compilation and ceased producing the zine completely. From that moment, Polyvinyl began focusing on finding bands as a half-hobby-half-serious job.
A defining moment came in late 1997 and early 1998 when they released a duo of full- length albums.
"It was with those bands we had early success with and early friendships with. For Rainer Maria it was their first full length ever, Past Worn Searching. Then for Braid it was their third album, Frame and Canvas. [That] was the turning point that made Polyvinyl into a label that was something we could take a shot at as a full time endeavor and not just a hobby."
Now it has been 15 years and the label is celebrating in a big way. During the upcoming Pygmalion Music Festival in Champaign-Urbana, Polyvinyl will throw a 15th Anniversary Show on Sept. 24 that will feature nine artists from their roster.
"It's put on by a very good friend on mine and the labels; we're always involved and are a sponsor of it," Lunsford said of the festival, "So, it seemed fitting to have our show be part of Pygmalion."
In addition to half-day long show, Polyvinyl has released a free sampler with 30 songs that is a retrospective of the labels entire fifteen year history.
For basically half of their lives Lunsford and Knight have run Polyvinyl. Lunsford joked, "It's the only thing I know how to do and the only thing I have done for my entire adult life."
Though they have worked extremely hard and long over the past decade and a half, Polyvinyl doesn't plan on switching over to cruise control any time soon. There are already plans to release a DVD that will showcase every music video their bands have ever produced. Lunsford said they hope to have the 60-video project available for purchase by the end of the year.
Got news tips for Paste? Email news@pastemagazine.com.
Others Tagged With