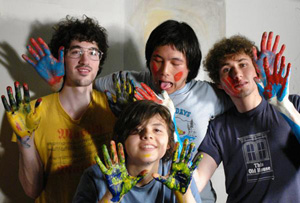 Baltimore's noise-pop quartet Ponytail has officially announced they are disbanding after more than a year of uncertain speculation, as guitarist Dustin Wong had previously stated their show at Baltimore's Whartscape Festival last summer would be their last.
Often compared to contemporaries Deerhoof, Ponytail produced a vibrant, constantly morphing style of music that defied easy classification. They made a name for themselves by releasing three critically acclaimed studio LPs—their most recent album, Do Whatever You Want All the Time, was released this past April—and touring the country with experimental bands like Hella, Battles and Don Caballero.
An official Ponytail statement made by the band's manager Sir James Winnie of We Are Free Management, was issued Tuesday and reads as follows:
We regret to inform you that the wonder group known as Ponytail have officially called it a day. After releasing their amazing album "Do Whatever You Want To All the Time" they were unable to make the touring portion come to life as the members have dispersed across the country in search of other life experiences. It's a bummer the world will never see Ponytail live again because it was truly honest music that filled you with extreme joy. An experience like that is rare these days and if you did see Ponytail live consider yourself lucky. Hopefully more bands will come along like Ponytail and shed light on the fakers.
Much love to the future.
Xoxo. Sir james winnie
Before disbanding, Ponytail released a new, water-themed music video for "Easy Peasy," a single from Do Whatever You Want All the Time, as a parting gift of sorts. The mp3 of the track is available for download at Stereogum. Stream the video below:
Ponytail – "Easy Peasy" from stereogum on Vimeo.
Got news tips for Paste? Email news@pastemagazine.com.
Others Tagged With