Portland Record Store Manager Talks Flaming Lips' Surprise Release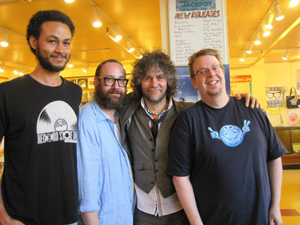 Yesterday we reported the Flaming Lips' six-hour song, "I Found This Star on The Ground," was online and available to listen to. But the song also had a physical release on Sept. 20: An extremely limited, exclusive release with Jackpot Records, a Portland, Ore.-based retailer. As we reported, the release came with a strobe toy and a USB that had the ultra-long song on it.
But maybe the most interesting thing about the song wasn't necessarily how long it ran, or the fact that Flaming Lips' frontman Wayne Coyne personally delivered the six-hour song to Jackpot Records. It was the way it all came together, and very rapidly. It was less than a month ago when Coyne first announced the band was recording the track, but they somehow managed to pull together a very impromptu release.
Jackpot Records' manager Tony Gradischnig (second from left in photo) caught up with Paste and explained how the whole thing went down:
"They pretty much got ahold of us pretty late afternoon the day before and said 'Hey, we love you guys, we'd like to do this thing' and we started getting it together," Gradischnig said. "People started lining up pretty early. (The Flaming Lips) were actually putting together the toy and uploading the USBs with the six-hour song that go in it on their way into Portland. It was actually being constructed as they were driving in to the last second when they were driving up."
Gradishnig said that the band was able to put together 11 of the packages before they arrived at the show, and as he understood it, the toys and packages were shipped to the Flaming Lips while they were on the road. He also said that fans that were waiting in line that didn't get to buy a copy of the album were put on a list for the band to contact when they produce more of the items, but the item was exclusive to Jackpot Records customers. The packages sold for $45 apiece. So far, only two of them have made it onto eBay.
A side note about Coyne that won't surprise Lips fans: he's a really nice guy, Gradishnig said. The singer stayed for almost two-and-a-half hours to talk to fans until he absolutely had to leave, where he then told the remainder of the fans where to meet him after the band's show later that evening. The manager said Coyne was amazed at the response for the event, which had really only been announced one day before, but a line stretched for about two blocks to try to meet the Flaming Lips frontman and hear his incredibly long new song.
You can see more photos from the event over at the Jackpot Records' Facebook page.
Got news tips for Paste? Email news@pastemagazine.com.
Others Tagged With