Roger Waters Performs with Foo Fighters, Announces More U.S. Dates for The Wall Tour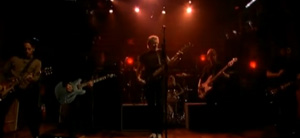 "Pink Floyd week" continued yesterday with the official commencement of the English progressive rock band's remastering campaign, Why Pink Floyd?. In its wake, more Floydian news has continued to break.
Most significantly, Pink Floyd's bassist and leader Roger Waters appeared on Late Night with Jimmy Fallon last night for an interview about Pink Floyd's past and the considerable legacy of Waters' most ambitious concept to date, The Wall. During the interview he gave his stamp of approval to The Shins, referring to their cover of "Breathe" as "awesome" and "perfect" and complimenting James Mercer's voice.
Later in the show, he joined forces with the Foo Fighters to perform a straightforward version of "In the Flesh?", the opening track from The Wall, where Waters handled vocal duties alone, Dave Grohl opting to just rock out behind him in the starstruck bliss he was clearly experiencing. Though the performance was short and almost a tease, it was probably smart they decided not to perform the longer version of "In the Flesh," in which the portrayal of The Wall antihero Pink's deranged neo-Fascist rally might seem a little inappropriate taken out of context.
In more news, Waters announced that he and his band are yet again expanding The Wall tour. This time they're bringing it back to North America to hit cities they weren't able to reach on their 2010 leg, and Waters indicated his plan this time is to stage the production outside at baseball stadiums. He also mentioned he and his crew have already tested out the lighting at Wrigley Field, Fenway Park and Yankee Stadium, all to satisfactory results.
As always, speculation abounds on the prospect of a future Pink Floyd reunion. Drummer Nick Mason has vocally expressed his desire to make it a reality, while acknowledging that the main reason there is likely not to be a Floyd reunion is due to guitarist David Gilmour's disinterest.
MGMT will perform the Syd Barrett-era Pink Floyd song "Lucifer Sam" tonight on Late Night with Jimmy Fallon. Watch Fallon's interview with Waters, as well as Waters' and the Foo Fighters' performance of "In the Flesh?", below:
Interview:

Got news tips for Paste? Email news@pastemagazine.com.