Slow Club: Paradise
[Moshi Moshi]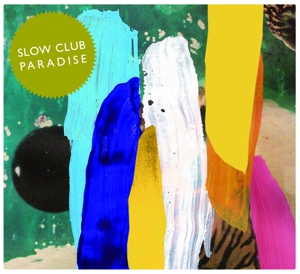 A sophomore album can fall anywhere between sounding exactly like the first album, (thus risking being boring) to being radically different, which takes the chance of losing fans from a band's original release. English folk-pop duo Slow Club find a happy medium between the extremes.
Their first release, 2009's Yeah, So, was a composition of unorthodox melodic duets about love. It was all very innocent and cinematic. Charles Watson and Rebecca Taylor's voices harmonized very softly over their guitars and a percussion of spoons, glasses and wooden chairs. Though the quirkiness of the songs was full of life, all together it all seemed rather lo-fi.
Yet with the new release of Paradise the band sticks to its roots and manages to make this group of songs richer than the previous effort. This album starts with the duo singing together, though Taylor's voice is more dominant over a drum kick. Then the strings join, and it's clear they spent more time working on how to make their music grander without straying from their simplistic style.
Watson and Taylor's lyrics come to life over drums that are a driving force on many of the songs like lead single "Two Cousins" and "Beginners" that never manage to seem forced or frantic. They then slow things down on intimate tracks like "You, Earth Or Ash" that could have been taken from earlier material. The breathtaking ballad-like "Never Look Back" meshes both aspects of the album, making the song a haunting ode to lovers singing to one another.
It's relatively fresh to hear a band's first follow-up and to not feel dissatisfied by a lackluster group of songs or besieged by an explosion of sound. Slow Club dials into emotions without having to be overbearing. There is plenty of substance to latch onto on this album that leaves you wanting more.
Others Tagged With