Various Artists: Phil Spector Presents: The Philles Album Collection
[Legacy]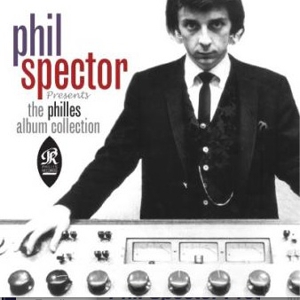 The Crystal's biggest hit wasn't actually recorded by The Crystals. In 1962, Phil Spector, then still a precocious young songwriter and producer with enough success to move his operations from New York to Los Angeles on a whim, recorded a West Coast group called The Blossoms singing "He's a Rebel," a good girl's pledge of devotion to a bad boy. He released it as a single by the Brooklyn girl group The Crystals, who were much more popular. Understandably miffed, they had to learn the song quickly so they could add it to their live repertoire.
Mick Patrick recounts this piece of music biz lore in the liner notes to Phil Spector Presents: The Philles Album Collection, which collects five albums from Spector's label along with a hits disc and a round-up of instrumental b-sides. The story reveals as much about the producer's attitudes toward his acts—that they were interchangeable—as it does about his business acumen, but the set is both an argument for Spector's pop genius and a celebration of girl-group ecstasy, which half a century later might seem like completely oppositional goals. It's actually quite alarming to see Spector, alleged misanthrope and convicted murderer, staring back at you from the cover of this set, with his cold bearing and disciplinarian leer. Anyone paying attention to the tragic shooting of actress Lana Clarkson and Spector's subsequent trial may find the packaging and presentation somewhat unsettling. Likewise, anyone who has read about his marriage to Ronnie Spector may find the idea of Spector and girl group wholly incompatible.
At a time when Spector's behavior and hairdo overshadow his hits, it can be difficult to separate the music from the man. But the Philles Album Collection persuasively testifies to his intuitions as a songwriter and his innovations as a producer. In the late 1950s and early 1960s, after the first round of unruly rockers but before the British Invasion, pop songs aspired to sugary alacrity, embodied by such marketably non-threatening acts like Pat Boone and Fabian. Spector didn't set out to make pop music dangerous again; instead, he instilled it with a grandeur and sophistication that made it anything but disposable, in the process granting teenagers in general and teenage girls in particular a strong voice in pop culture.
The songs collected on the Philles Album Collection are youthful, but never impetuous. They're ambitious, but never pretentious. Rather than dismissing adolescent desire and confusion as trifling, songs like "Be My Baby" and "What a Nice Way to Turn Seventeen" possess both a life-and-death gravity and a specifically youthful exuberance. "Then He Kissed Me" daydreams a bright future full of romance and security, and lead Crystal La La Brooks sounds positively ecstatic. On the other hand, Bob B. Soxx & the Blue Jeans' "Not Too Young to Get Married" is a protest song as potentially subversive as "The Times They Are A'Changin'" or "Anarchy in the UK," even if they're only protesting her parents' disapproval.
It's perhaps no surprise that as Spector grew older, his relation to youth culture changed dramatically and eventually for the worse. But the Philles Album Collection captures the man in his prime, the genius before his eccentricities curdled into erratic behavior. Each song on these seven discs—totaling 87, which doesn't even cover the breadth of the label's catalog—contains at least one amazing idea that enlivens the music or illuminates the lyrics. Everyone knows the famous opening of The Ronettes' "Be My Baby," that enormous drum tattoo heralding one of the most perfect pop songs ever recorded, but there are also lesser-known, but no less inspired flourishes, like the teen gang cheering on the protestations of "Not Too Young to Get Married" or the simple, full-throated harmonies of "There's No Other Like My Baby."
Rather than arranging them in a greatest-hits tracklist, the box set packages these familiar and unfamiliar songs on the original LPs, which allow listeners today to hear them in situ and to discover long-lost gems. We get Bob B. Soxx & the Blue Jeans skipping through hootenanny-soul renditions of "Zip-a-Dee-Doo-Dah" and "This Land Is Your Land," reminding you that the girl groups were contemporaries of the folk revivalists. We also get the glorious throwaway tracks like "Frankenstein Twist" (co-written by one of The Crystals' mothers) and would-be teen anthems like "Another Country—Another World."
While the emphasis is squarely on albums, the Philles Album Collection does includes two compilations. Philles Records Presents Today's Hits gathers some of the label's biggest hits, including "Be My Baby" and "Then He Kissed Me," but seems largely redundant without the inclusion of later smashes like the Righteous Brothers' "You've Lost That Lovin' Feelin'." Much more revelatory—not to mention much more fun—is Phil's Flipsides, credited to the Phil Spector Wall of Sound Orchestra, which collects instrumental b-sides. To ensure that DJs played the A-sides, Spector, ever the control freak, rounded out Philles singles with studio jams, vocal-less tracks, and random music as b-sides. Often named for friends or family of the musicians, these odd tracks certainly don't sound like radio hits, even at a time when an instrumental single could be a smash. Yet, heard together in this context, these toss-offs reveal the breadth of the Philles sound, which fed off smooth adult pop, rambunctious r&b, surf rock, even hot jazz.
As the name of his label implies, Spector never shied away from self-promotion, billing himself as a star on par with any of his talent. But by giving women like The Crystals and The Ronettes and even The Blossoms such a commanding sound and such dignified songs to sing, he ensured that they would not be dragged down by his reputation. It's possible to hear the Philles Album Collection and appreciate the vocal flair of these talented young musicians, who 50 years later can still hold their own against their infamous producer.
Others Tagged With