Watch Fucked Up's Damian Abraham Dance on Yo Gabba Gabba!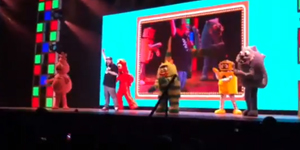 Judging from the group's explicit name and its rowdy performances, the last thing anyone would expect from Canadian experimental punk band Fucked Up is to feature on a kids' show. However, it seems hell has frozen over: Lead vocalist, screamer and consummate entertainer Damian Abraham recently guested on the Nick Jr. show Yo Gabba Gabba! and performed the special "dancey-dance" alongside the show's oversized costumed characters.
The frontman announced his appearance on the TV show via his Twitter page. Uncharacteristically for Abraham (and fortunately for the children), he didn't smash any glass or strip down to his underwear like he would at a Fucked Up show. Instead, he very politely instructed the kids in the crowd on how to do a dance he dubbed "the Disco Roll," which consisted of four easy moves. Once he finished teaching the dance, the wacky creatures joined in with him in a faster version of it as the audience went wild.
Abraham's silly performance just goes to show you can never (totally) judge a book by its cover. Check out the video below taken by his wife Lauren Moses-Brettler, complete with cute commentary from her and their own little son, a passionate fan of Yo Gabba Gabba!:
Got news tips for Paste? Email news@pastemagazine.com.
Others Tagged With