Watch Mastodon's New Video for "Curl of the Burl"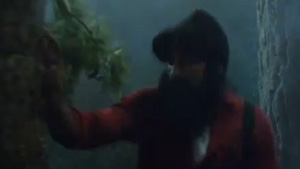 Atlanta's finest modern metal band Mastodon will drop their fifth album The Hunter in just five days, and they're being extra generous to their fans in the days leading up to its official release. First the band leaked three of its songs onto the Internet ("Black Tongue," "Curl of the Burl" and "Spectrelight"), then followed that up by making the entire album available for streaming on their YouTube page—and now they've released a music video for "Curl of the Burl."
The video plays like something out of a B-movie, full of ridiculous campy moments. It centers around a white-trash woodsman who lives in a trailer. Inside, he appears to be making a psychoactive substance in a meth-like lab. He proceeds to snort several lines of whatever it is and grow extra limbs, and then the next day goes outside and picks some mushrooms and puts them into the drug he's synthesizing, then smokes whatever it is and turns into a werewolf-like creature with superhuman strength and starts knocking giant trees over like they're twigs. He appears unstoppable—that is, until a group of really hot women with a unique power find a way to subdue him.
As for the song itself, "Curl of the Burl" rides on meaty, sludgy riffs but it's one of the most straightforward Mastodon offerings to date, featuring virtually none of the progressive structures and fills that characterize the majority of the band's work.
All in all, it's probably best not to ask too many deep questions—after all, it's metal! Just enjoy the ride for yourself below.
Got news tips for Paste? Email news@pastemagazine.com.
Others Tagged With