Apple Announces iPhone 4S, New Voice Controls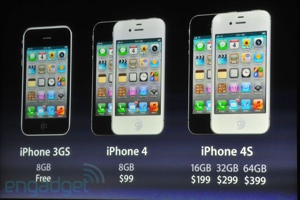 Today, Apple had their iPhone conference, during which they announced the new iPhone 4S and a ton of new features for their iPod line.
The big news from the press conference was the iPhone 4S. The newly designed iPhone will have a glass back and will feature an eight megapixel camera with an aperture of F2.4 as well as an extended battery life that will allow eight hours of talk in 3G, 14 hours of 2G talk, six hours of 3G browsing and nine hours of browsing in WiFi. It will also allow for 10 hours of video and 40 of music. The new phone will be twice as fast and will feature an A5 chip for video games.
Apple also announced Siri, their new voice control system. The advanced system is called an "intelligent assistant that helps you get things done just by asking." For example, a user can ask "Do I need a raincoat today?" and Siri will state "It sure looks like rain today." Using Siri, a user can set alarm, give directions, read messages and respond and set calendar appointments, among other things. One interesting example is you can say "remind me to call my wife when I leave work." Siri will already have registered who your wife is and will set up a geofence around your work, so it will automatically know when you are leaving and who to call.
The iPhone 4S will feature black and white versions. The 16GB version will be $199, with the 32GB going for $299 and 64GB for $399, with carriers. The iPhone 4 will now be $99 for 8GB, and the 8GB 3GS version will be free with a contract. Preorders for the 4S start on Friday and will be available on Oct. 14 in US, Canada, Australia, France, Germany, Japan and the UK, and will now be available on Sprint, in addition to the usual Verizon and AT&T.
Apple also showed off some new features of its iOS operating system. There will be a new section called Notifications, which will count your notifications instead of popping up automatically on your screen. Also announced was a new iMessage service and syncs between iOS devices, including on Newsstand. iOS5 will be released on Oct. 12.
Also on Oct. 12 will be Apple's iCloud service that will store your content and wirelessly push it to all your personal devices. It will also sync documents, photos and more. iCloud will be free for 5GB of mail, documents and backup storage. iTunes Match will be available for $24.99 a year and will allow iTunes to scan and match your library, upload songs and stream immediately music in your library that you haven't loaded onto your iTunes.
Apple showed off new updates to the iPod nano that will allow users to have bigger icon displays, track walks and runs and include new clock faces. The new 8GB will be $129, and the 16GB will be $149.
The new iPod touch will also integrate iOS5 and will feature a white version as well. The new versions, also available Oct. 12, will be priced at $199 for 8GB, $299 for 32GB and $399 for 64GB.
Today's press conference was the first by Tim Cook since he took over as Apple's CEO from Steve Jobs.
Got news tips for Paste? Email news@pastemagazine.com.