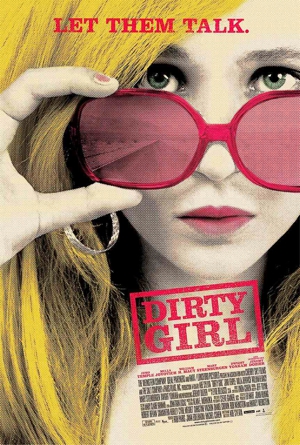 Titular Dirty Girl Danielle (Juno Temple) sees her sluttiness as a kind of feminism. It may be a man's world, but all the other girls "don't know they got the power," she drawls in her Oklahoma twang. "If I'm on top," she argues as her high-wedge heels exit some smitten boy's car, "who's getting screwed?" First-time writer-director Abe Sylvia, a Broadway dancer drawing from his own teen experience, photographs her as the minx she is, with lingering close-ups—sometimes extreme close-ups—on those heels and her eyes and especially her soft, shiny lips.
The act only takes her so far, though. When Danielle proves too advanced for sex ed (dubbed "Lifestyle Choices"—a course description far too politically correct for 1987 Norman, Okla.), she's moved to special ed, where she finds she can't flirt her way out of "Challengers" (another uncharacteristically PC euphemism) or the accompanying insults from her next conquest. (Her mantra: "Discriminate. Designate. Dump.")
In her new class, Danielle meets Clarke (newcomer Jeremy Dozier), the fat gay kid slumped in the back with his hoodie pulled down over his eyes, and they're paired in that ubiquitous parenting experiment in which they're charged with caring for a sack of flour. Clarke is instantly smitten with this wild child, the best girlfriend he never had and an escape from his homophobic dad (Dwight Yoakam) and sympathetic if ineffectual mother (Mary Steenburgen). They name their daughter Joan for Joans Jett (Danielle's choice) and Crawford (Clarke's).
When Danielle's mom (Milla Jovovich) threatens to marry her Mormon boyfriend (William H. Macy), who wants to adopt Danielle to ensure her entrance into the celestial kingdom, and Clarke's parents discover his stash of gay porn, they hit the road, bound for Fresno, Calif., where she hopes to find her long-lost father and the beach (silly, small-town kids!).
By now, the caliber of Dirty Girl's supporting cast should hint at the quality of the material, which, although not wholly original, offers some genuine sweetness in the central relationship brought to life by the chemistry of the film's leads. Temple is deliciously saucy as the class slut who revels in being that girl. Opposite her, Dozier is revelatory. Once Clarke is liberated from his father, the character comes alive. He's funny, charming, sexy and, especially, happy, finally free to belt tunes by the likes of Pat Benatar, Bow Wow Wow and Melissa Manchester, whose "Don't Cry Out Loud" serves as the power ballad at the film's familiar yet satisfying climax. Meanwhile, in a bit of magical realism, Joan has a personality of her own, with a marker-drawn face that changes expressions in response to her "family" adventures on I-40.
Enjoyable to a fault, Dirty Girl struggles at times with tone, unable to find an effective balance between scenes that border on farce and those with weightier themes. Promiscuity, homophobia, abuse and gender politics all get serious play here, but often these earnest moments are lost in the wake of all the delightful characters, witty dialogue and '80s pop music.
Others Tagged With