George Harrison: Living in the Material World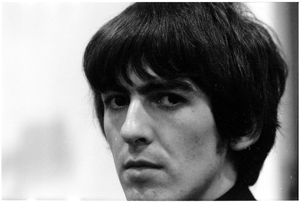 It's difficult to believe that we lost George Harrison almost ten years ago. Martin Scorsese's new George Harrison: Living in the Material World meticulously recounts his life story, from his birth in 1943 in a war-ravaged Liverpool, to the maelstrom that was the Beatles, to his solo artist years, to his later life until it ended way too soon when he died of cancer (although, as you'll see when you watch the film, Harrison probably wouldn't have believed that he died before his time).
George Harrison was in many ways the most mysterious of the four Beatles. John and Paul were the songwriters and each was the other's foil; Ringo anchored them all with a steady backbeat and a million-dollar smile. George, on the other hand, was known as "the quiet one" for the most part because he was so enigmatic. One of the best illustrations of this characteristic is a story George Martin tells in the film about the Beatles' first Parlophone recording session in 1962. They were incredibly green, shy, and in awe of the entire process. After they finished steamrolling through several songs (time was money – especially then – and they were only allotted just so much time to lay the tracks down), producer George Martin (who had them in thrall because he also produced the seminal British comedy troupe The Goons) asked if there was anything they didn't like in general, probably just being polite to these four country lads whom he must have believed to be a flash in the pan.
John and Paul sat quietly, not daring to say a word. Ringo was still the new guy, and certainly wasn't about to say anything. In fact he only played on some of the tracks, because George Martin didn't trust his drumming yet. George Harrison slowly drawled, "Well for a start, I don't like your tie." That comment really sums up his personality – still waters run deep, as they say. No one really had a clue what he was truly about until his amazing triple solo album, All Things Must Pass, was released in 1970. "I will never forget the first time I heard All Things Must Pass, the overwhelming feeling of taking in that all glorious music for the first time," says Scorsese. "It was like walking into a cathedral. George was making spiritually awake music – we all heard and felt it – and I think that was the reason that he came to occupy a very special place in our lives."
The interviews in the film (Eric Clapton, Terry Gilliam, Ringo Starr, Paul McCartney, Phil Spector, Eric Idle, George Martin, Yoko Ono, Tom Petty, Jackie Stewart and others) are stellar, as is the archival material, with a lot of rare clips that will delight any Beatles or Harrison fan. There are plenty of reveals that will keep the viewer enthralled; from the incredible interviews with producer Phil Spector about the recording of All Things Must Pass (Spector: "perfectionist is not the word") to Harrison's later years when he mortgaged his own home to finance the film Life of Brian without a second thought. We learn that he was an avid gardener. Not for George, kicking back and letting a hired hand do the planning and executing of his landscaping – he got right in there and tilled the soil himself. In later life, he started his own film company to make the films he felt no one else was making. He bankrolled Formula One driver Jackie Stewart because he loved racing. And, to one one's surprise, the Beatles were only a very small part of Harrison's story and probably not what he considered the most important part at all. This is clearly evidenced by a 1969 diary entry we are shown where he writes casually that he woke up, rehearsed at Twickenham (the tension-filled Let it Be sessions) "and in the evening did King of Fuh at Trident studio, had chips later."
The major crises in Harrison's life came in his later years. John Lennon's untimely death in 1980 was a wake-up call to the three remaining Beatles that they all needed to be a lot more vigilant about security in general. Yet even so, George and his wife Olivia were brutally attacked in their own home in the middle of the night, by a madman who was armed with a knife. (This story, too, harrowing though it is, features Harrison's Liverpudlian sense of humor; as he was being wheeled out on a stretcher to the hospital he apparently said "How do you like the job so far?" to a new hire who was standing and watching in horror). The final crisis of his life was being diagnosed with cancer, from which he eventually died on November 29, 2001. The 3 a.m. knife attack taught George Harrison a very important lesson — he began to learn what is the hardest thing for any human being to learn, how to let go. "The Art of Dying," as it were, which he had written about back in 1970 for the All Things Must Pass record.
One of the most important things any documentary about someone can give us is a totally new and unique look at their life, especially in the case of someone as famous as George Harrison – someone whose every move and guitar lick have been picked apart and obsessed over since the Beatles hit the world stage in 1963. Living in the Material World is all that and more. It's a beautiful story of a beautiful life.
George Harrison: Living in the Material World airs Wednesday October 5 on HBO at 9pm and Thursday October 6 on HBO at 9pm.
Additional playdates and other information available here:
Others Tagged With