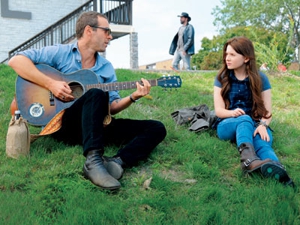 "He's in love with rock 'n' roll. He's in love with getting stoned. He's in love with Janie Jones." These lyrics, once brought to life by the Clash on their debut album seem to be the jumping-off point for the music-themed film, Janie Jones. Aside from a muttered comment heard in one of the film's opening scenes, neither the Clash nor mention of the song itself is heard from again. My curiosity lasted only a little bit longer. The film starts promisingly enough, with an early scene featuring Janie Jones' meth-addicted mother Mary Anne (Elizabeth Shue), as she stutters through a tweak-y confession to her ex-lover, boozy rocker Ethan Brand (Alessandro Nivola), claiming that he's the father of her 13-year-old daughter (Abigail Breslin). After Ethan's high school-esque denial, where he mocks the matter in front of his uncomfortable girlfriend and fellow band mate, Iris (Brittany Snow), Mary Anne storms out as Ethan refuses to care for Janie while she gets cleaned up. Unfortunately, none of the scenes that follow are as captivating, even after Mary Anne performs a switch and ditch on the rocker, leaving Janie in his care. Muted clichés ensue.
The music-heavy drama features original songs that strive to give Janie Jones the character it so desperately needs. Ethan's combative antics, fueled by his all-day drinking binges, inevitably cause the band to break up. As a result, he embarks on a solo tour, daughter Janie in tow. Here, his gravelly, folk-like voice is rightfully exhibited, leaving one to wonder why Ethan was even in a rock band to begin with.
Loosely based on the relationship of director David M. Rosenthal and his daughter, Janie Jones is similar to last year's father/daughter tale, Somewhere, by Sofia Copolla. Like Elle Fanning, Abigail Breslin gives a commendable performance that may be just enough to draw in audiences and leave them satisfied. Breslin has transitioned seamlessly from the risqué pageant dancer in Little Miss Sunshine to an edgy, guitar-picking 13-year-old with a goosebump-inducing voice. Her charming screen presence (aside from the awkward cigarette-puffing scenes) and heart-warming songs display further talent from the young star who apparently can do no wrong.
As you'll assume from the first sight of Breslin strumming on an acoustic, Ethan and Janie connect with each other through their mutual passion for music and their therapeutic use of it. The best scenes of the film feature the duo in impromptu jam sessions, which lead to dad-and-daughter stage performances in which Breslin and Nivola exhibit a strong chemistry. These moments sporadically light up the 107-minute film.
Strong performances by its actors and head-bobbing original jams lift Janie Jones off the ground here and there, but the film can never sustain its altitude. It could have ended at least four separate times—with an unpredictable departure—but the director seems insistent upon providing the audience with one last "Aw, shucks" moment.
Such an uneven film is unlikely to earn back much of its actors' salaries. Fortunately,the soundtrack with the film's original music is available on iTunes; that might do the trick.
Others Tagged With