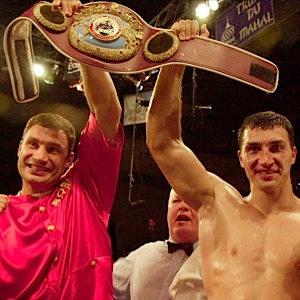 Despite a confusing opening sequence and a disappointingly anticlimactic ending, Klitschko makes for a thrilling boxing documentary. Profiling Vitali and Wladimir Klitschko, the Ukrainian-born, German-adopted pugilists who are the first brothers to hold world championship heavyweight titles at the same time, director Sebastian Dehnhardt captures the ups and dramatic downs of careers that started in illicit kick-boxing clubs in communist Soviet Union and culminated in more than a half-dozen championship belts between them.
Unfortunately, Dehnhardt takes his time getting into this narrative, starting instead with an almost impressionistic prologue documenting the buildup to an unidentified match. Arena preparations are intercut with locker-room pep talks while a voiceover explains what it's like to be inside the ring. The language is evocative, especially when it describes being "two times as strong" with a brother at ringside. But we don't know the Klitschkos yet, and despite a five-year age difference, they look a lot alike, so all this poetry of words and imagery is wasted on viewers who haven't yet established an intimate connection with the subjects.
But they will, for the Klitschkos are handsome, intelligent and charismatic, with adorable parents interviewed here for the first time. Dehnhardt returns to the military barracks where the boys grew up, including a stint at Chernobyl at the time of the nuclear disaster—an incident to which the family attributes their father's cancer today. They recall playing with live landmines and splashing in pools of radioactive runoff. A strict disciplinarian, their father taught them to fight only if absolutely necessary, but then to fight to win.
Eventually, they migrated to Germany, where Vitali was recruited to fight for an amateur boxing league. When Vitali got into trouble and was prohibited from leaving Ukraine, he sent Wladimir instead, a move that would lead to the younger brother's gold medal at the 1996 Olympics. Soon after, the boys went pro and were courted by the likes of Don King.
In retrospect, the details of the fights featured in the film tend to blur together, especially for non-connoisseurs of the sport. But one stands out as representative of the type of fighter the Klitschkos are: In 2003, after the disappointment of having to retire a match due to an injury (a defeat later avenged by his brother), Vitali fought Lennox Lewis. He suffered a nasty cut over his eye, an injury detailed with gruesome ringside footage and a surgeon's clinical description, and, over Vitali's vociferous objections, the ring doctor called the fight. Vitali lost, again, but he had won over the crowd, raising a gloved fist to screaming fans and inspiring one commenter to say, "Lennox Lewis won the fight. Vitali won the event."
Dehnhardt excels when his subjects don't, capturing their devastating injuries and defeats in brutal slow motion and splitting the screen between one brother in the ring and the other screaming his childhood nickname from the sidelines for maximum dramatic effect. Unfortunately, the same cannot be said for their comebacks, which feel like tacked-on epilogues compared to the drama with which some of their defeats are documented.
Part of the problem is that the Klitschkos' story wasn't over by the time Dehnhardt finished filming in March 2011: With Wladimir's World Boxing Association win against David Haye in July 2011, the brothers hold championship titles from all five boxing federations, and Vitali has political aspirations in his home country of Ukraine. Albeit incomplete, their biopic will ensure that we'll continue to follow the Klitschkos.
Others Tagged With