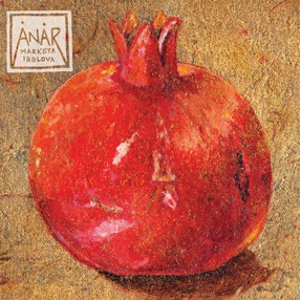 It's fitting that this month, we will get to see multiple sides of Czech pianist Markéta Irglová: first in the acclaimed festival-circuit rock doc, The Swell Season, which looks at her work alongside longtime collaborator, Irish singer-songwriter Glen Hansard, and then as an artist on her own with her debut solo album, Anar. Luckily for us, neither disappoint.
Although it's Irglová at the creative and musical center of the album, it may be a bit misleading to call it a "solo album," because as with her work with Hansard for The Swell Season, she draws inspiration from the many muses who surround her, and they in turn bring out the best in her: her new husband and sound engineer Tim Iseler; Aida Shahghasemi, the Iranian drummer and vocalist with whom she established a musical partnership at Zora Space in Brooklyn and a host of Chicago-based musicians who add extra color to Irglová's lush piano-and-vocals landscapes.
Most of this rather intimate album is just Irglová, a piano and her ethereal, light-in-the-darkness harmonies, along with occasional horns and strings to keep things fresh. Her lyrics are simple and contemplative, but never feel simplistic, and like her work with The Swell Season, it all feels almost painfully sincere. It's the kind of music one can curl up and hide in, to paraphrase Maya Angelou. When she sings "We can run free and have adventures of our own / take the time if you need to be alone" on "Divine Timing," a couplet which would feel hackneyed in, say, a pop-punk or adult contemporary context, the lines sound warm and welcome here amid the divine-choir oohs and aahs, and they make you hope she's right. The hushed opener "Your Company" works in a similar fashion, a candlelit kind of love and longing anthem full of swaying piano and beautiful warbling from Irglová.
Those looking for an abundant, anthemic "Falling Slowly"-style love theme may be let down by the lack of one here, although first single "Go Back" carries the same weight and resonance. With a quietly intense, gradually building longing in her voice that channels the soul masters of heartbreak like Otis Redding, Irglová seamlessly blends all manners of theme and era and genre—the horns and call-and-response harmonies carry more of a hint of The Shirelles than they do The Swell Season; the brass-and-keys interplay that swirls around the refrain recalls Sufjan Stevens' Illinois. Somewhere between Prague and Dublin and Detroit, this sound manifests, and it works.
Some listeners may find this effort a bit too safe or not varied enough, and indeed, while it is exquisite, the middle stretch holds much similarity, but there are some moments of risk and interesting influence. Penultimate track "Dokhtar Goochani" is a slowed-down, stripped-down cover of a more traditional tune from Iranian singer Shahla Sarshar, likely a product of the influences from Shahghasemi and artist Nahid Hagigat, whose painting of a red pomegranate on a gold background became the album's cover art. The recontextualization of Sarshar's song into Irglová's gentle piano-and-vocals style takes away some of its power, but the building interplay between Shahghasemi's drums and the consistently lovely harmonies is almost thrilling to listen to, and the singer's veneration for the music comes through in her commitment to it.
The title of the album, Anar, comes from the Farsi word for "pomegranate." And like its namesake fruit, Irglová's album quickly sheds any peels and pretenses to reveal a beautiful, bleeding-heart interior.
Others Tagged With