New Girl Review: "Wedding" (Episode 1.03)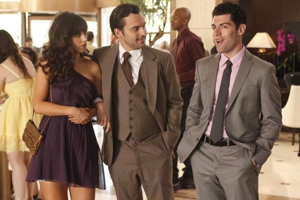 This week, New Girl became the first new show of the season to get picked up for a full season. With its third (and best so far) episode "Wedding", New Girl proved why it deserves an entire season.
The episode starts with Jess trying on dresses for a wedding to which she will be pretending to be Nick's girlfriend in order to make his ex Caroline jealous. To do this, the roommates all agree that Jess has to be, well, not Jess. Newest roommate Winston is working at the wedding as an usher in an attempt to prove he is the best usher and not just good at playing basketball overseas. Schmidt goes as well and soon discovers a girl he wanted throughout college is there. The only problem is he has to resist Gretchen (Natasha Lyonne), his hook-up partner at every wedding.
"Wedding" asks its characters to go against type, which works very well here. Jess is hilarious at trying to be normal and overly flirtatious. Of course, the crazy bottles up inside of Jess, eventually bursting in a hilarious bathroom scene with Schmidt's crush. The always competitive Winston goes overboard battling with a kid to be the best usher. And while Nick is usually the most reasonable member of the group, by the end of the episode, we find him drunk, depressed and holed up in a photobooth. We've seen flashes of this version of Nick throughout the first two episodes in flashback, but Jake Johnson does a great job of being a self-pitying, Jack Daniels-drinking mess while remaining hilarious.
Besides drunken Nick and "normal" Jess, the episode has some great moments between the gang, including an uncharacteristically quiet scene between Jess and Winston bonding over their love of bubbles. There's not much to it, but it gives more depth to the Winston character as he lets down his guard.
The episode ends not too dissimilarly from the previous two. The gang, beaten on their various exploits (Jess fails as a fake ex, Winston creeps people out in a dance-off with the kid, Schmidt loses the dream and settles for Gretchen again, Nick finds out that his ex now has a boyfriend), bond together as they perform Jess' own specific version of the chicken dance to "Groovy Kind of Love". The cheesiness is intentional, and it's a nice moment for the group.
"Wedding" seems to be doing some strong foreshadowing, making Jess and Nick a fake couple. They make a nice pair, but it'll be the disappointing easy way out for them to get together. It will also be interesting to see where the show goes from here, since the first three episodes have dealt with members of the group getting over exes. With "Kryptonite" last week, Jess got over her ex and in "Wedding", Nick apparently gets over his. Next week's episode might break from the pattern that the show has cultivated so far. But if the quality keeps going up like it has this week, with hilarious moments and genuinely interesting character moments, it should be a great full season for a show really starting to find itself.
Others Tagged With