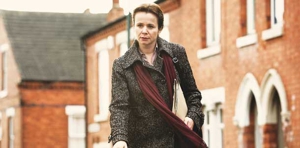 In the opening scene of Oranges and Sunshine, social worker Margaret Humphreys (Emily Watson) removes a baby from its mother's care. She's calm and methodical, talking to the parent and child in soothing but firm tones even as her eyes betray her devastation at carrying out this responsibility. Later, she vocalizes her ethical conflict—is she doing the right thing, or is she "oppressing the poor with middle-class values?"—and she spends the rest of the film reuniting children with their families instead with the same sympathetic professionalism.
For through her work, Margaret discovers a grave injustice: the systematic deportation of tens of thousands of children from the United Kingdom to Australia. The "migration" started in the 1940s and continued as late as the 1970s, stranding a generation of Brits a half a world away. They were told they were orphans. In reality, though they may have been underprivileged, many of their parents were alive—and, in the 1980s and '90s when the film takes place, still are. Without family and in some cases without their real names, these child migrants have spent a lifetime wondering, "Who am I?"
By conveying this true story though Margaret's eyes, director Jim Loach (son of Ken, directing his feature debut) unfolds the scandal like a mystery. As she digs into the past, however, her obstacles aren't the expected ones: Her husband supports her mission unconditionally, and when her boss finds out she spent her vacation in Australia meeting with the now-grown victims of this conspiracy, she asks Margaret how much time she needs to complete the project. Margaret asks for a year; she gets two.
Margaret's inquiry is frustrating at first, as she doesn't seem to be asking the right questions—or any questions, really. Later we realize that this is her MO: She's part PI, part therapist, gathering information by sitting quietly and listening. But she's absorbing all she hears, a practice that takes its emotional toll: She struggles to prioritize her family, and she's eventually diagnosed with post-traumatic stress disorder from the pressure of feeling like there's no one else to help these people. It doesn't help that her project strikes deeply buried veins of shame and hate in the communities that took in the children
Because Margaret's investigation initially involves such scintillating stuff as combing through birth, death and marriage records, Rona Munro's script occasionally employs a clumsy voiceover disguised as conversations between Margaret and her husband. But later the same technique works wonderfully, pairing the film's most dramatic plot points with its most emotional monologues.
The stories shared in the film are myriad, but the plot focuses on two men in particular: Jack (Hugo Weaving), who's incredibly damaged by his experience, and Len (a marvelous David Wenham), who's so adamant about not being viewed as a victim that he comes off initially as a jerk. He's a complex character with a complicated relationship with his benefactors, if that's what you call an order of priests who build a grand monastery on the backs of young boys: Perversely, Len feels he owed a debt to the brothers for his care and upbringing; when he repaid it by paying for their swimming pool, he shifted the power from them to him. Eventually, Len and Margaret form a memorable pairing, as he alternately supports and challenges her and her work.
Unexpectedly, Margaret Humphreys' story somewhat resembles that of Sam Childers, the real-life protagonist of last month's Machine Gun Preacher who stormed southern Sudan with the swagger of a biker to build a refuge for the region's orphans. Of course, Margaret is nothing like Sam: reserved in manner, buttoned-up in dress, compassionate in her attention to detail—hardly a fist-pumping activist. But that both of their tales highlight the difficulty of reconciling a comfortable home life—any comforts, at all—with the atrocities they witness so far from home speaks to the magnitude of this conflict for those who see wrong and are compelled to do something about it. How much is enough? How much is too much?
Others Tagged With