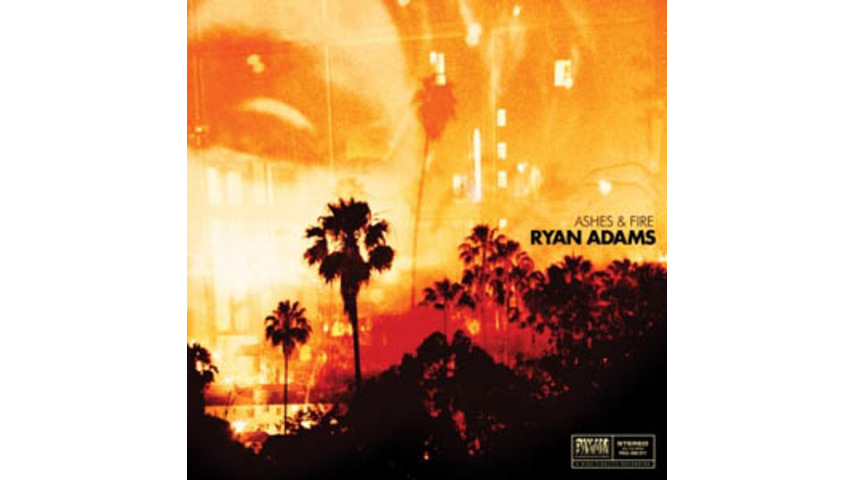 I've talked to more than one person who is concerned that a happily married Ryan Adams, one without destructive forces compelling him from within and without, one who is as focused as a person who creates at a pace that defies the existence of an attention span, one who isn't mixing coke with heroin with whiskey with about a hundred songs a month, won't discover the same depths or reach the same heights as before. I disagree, and not just because I write much better sober than hungover, much better hungover than drunk and marginally better drunk than asleep. I disagree because I don't see any reason why a happy, healthy artist should have trouble making a piece of art that is visceral and substantial. I won't disagree that some amazing music has been born of pain and misery, but if I were a betting man, I'd bet sunny days have led to success at least a few times before.
I'm happy to say Adams' Ashes & Fire proves me right. Suck it, friends who argued against the possibility of a clean and even Adams equaling the output of an all-night whiskey- and blow-fueled Adams, the one who seemed to rip his heart from his chest and record the process for people like me to enjoy. I'm going to put aside how messed up it is to discuss someone's artistic output in terms of hypotheticals that are directly tied to their happiness as a human being; I'll put any discussion of the absurd context in which we consider the artistic and personal lives of musicians away for another day. On the merits, which I think are always the music, Ashes & Fire, is pretty damn good. The record was produced by Glyn Johns, known for producing acts like The Beatles, Bob Dylan, The Clash and The Rolling Stones; he is also known as the father of Ethan Johns, the producer of Adams' Heartbreaker and Gold. Aside from its production pedigree, Ashes & Fire features the talents of Norah Jones singing backup and playing piano and Benmont Tench (Tom Petty and the Heartbreakers) on keyboards. It starts with the song Dirty Rain, classic Adams, uncontrived emotion painting pictures of time and space. From there the album shifts gears easily as it saunters on, from the heel-tapping shake and rattle of the title track to Do I Wait, pretty much a perfect love song, the kind that would make Motown proud, because it isn't about just the good parts of love, but lives in the questions that define it—between what we think it should be and what it is, between where we want to be and where we are.
While I might be disappointed I never got to attend a show where Adams left mid-set without an explanation, I'm excited to someday see one where he doesn't. It's not my favorite Adams album; I like some rough edges that feel like they were exposed to the harsher elements of the soul—but like I said before, it's pretty damn good.
Others Tagged With