Watch Coldplay on The Colbert Report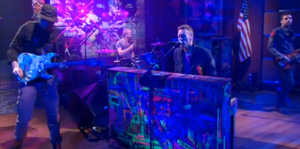 Last night, Coldplay appeared on The Colbert Report to perform material from their fifth album Mylo Xyloto, which will see its official release this coming Monday, Oct. 24.
The band performed the album's newest single "Paradise" for the live television broadcast and also played "Up in Flames," another track from the album, as an Internet-exclusive performance.
After deducing that new album title Mylo Xyloto is Greek for "Miley Cyrus," Stephen Colbert interviewed Coldplay frontman Chris Martin, touching on topics like Coldplay's seven Grammy awards, the band's new album and even Radiohead's hour-long performance last month.
When asked if Coldplay was influenced by Radiohead, Martin acknowledged that they were, adding, "We are not as good musically, but much more attractive," also joking that Thom Yorke's freaky dance from the "Lotus Flower" music video is a "wriggling dance" common in Britain: "We're taught it in school and it works pretty well for us."
Colbert also asked about the real meaning behind the peculiar name Mylo Xyloto, to which Martin stated, while laughing, that they "took it from the randomness of the universe." Colbert promptly asked if Martin was high, to which he confirmed he was "17 percent high."
Below, you can stream Coldplay's two performances as well as Colbert's interview with Martin:
"Paradise":

"Up in Flames":

The interview:

Got news tips for Paste? Email news@pastemagazine.com.
Others Tagged With