Watch Elvis Costello Perform on Sesame Street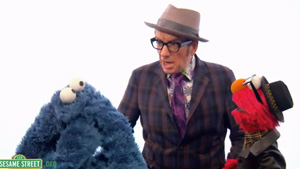 Elvis Costello was an incendiary figure in his youth, defying authorities and executives who wanted to censor his music and performances — but now the eclectic singer/musician/songwriter is showing the world it's OK to mellow with age.
In a recent Sesame Street episode, Costello made a guest appearance to sing a duet with Elmo about, in typical Sesame Street fashion, counting to 10 — the problem is, Cookie Monster ate the number 2 and he can't count any higher. The chosen song was "Monster Went and Ate My Red 2" — a parody of Costello's classic "(The Angels Wanna Wear My) Red Shoes," which appeared on his 1977 debut My Aim Is True and was also performed on Top of the Pops.
Playing a toy guitar alongside Costello's acoustic, Elmo was dressed just like the singer in a suit, wacky tie, top hat and square frame glasses. He even got Costello a new number 2, only for Cookie Monster to devour it again. Sure, the whole montage is super-cheesy, but it is a kids' show and worth watching just to see Costello's versatility (and facial expressions). Plus, who'd've thought Elmo knew how to harmonize?
Check it out for yourself below:
Thanks to Stereogum for the tip.
Got news tips for Paste? Email news@pastemagazine.com.