Yeasayer Prepares "Demented R&B" Third Album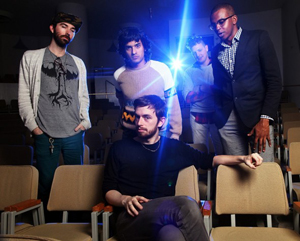 Yeasayer's sophomore release, 2010's Odd Blood, was filled with dance beats and new romantic synthpop—a radical departure from their heavily psychedelic, experimental debut All Hour Cymbals. For their still-untitled upcoming third album, the Brooklyn quintet is determined to change up their sound once again.
In an interview with Spin, singer Chris Keating was adamant about not rehashing the same musical style, explaining that, since Odd Blood consisted largely of love songs, he's been "writing from a more depressing and darker perspective." He describes the new songs' sound so far as "demented R&B," citing David Bowie and Aaliyah as central influences.
Keating commented that there would be less overtly danceable material in store, vocally criticizing trendy club music like David Guetta and the "Ibiza stomp" sound. He also mentioned they've been trying their hand at reggae- and dub-style music and utilizing new technology.
Yeasayer has already written a full 22 songs for their upcoming effort (one song, "Henrietta," has already been released). Because of the surplus of material, the band has considered releasing two separate LPs. As Keating describes it, one would feature the concise, poppier songs and would be the "real album," while the other would house the group's longer, more experimental recordings.
Got news tips for Paste? Email news@pastemagazine.com.
Others Tagged With