A Q & A Session With Help-Portrait Photographer Jeremy Cowart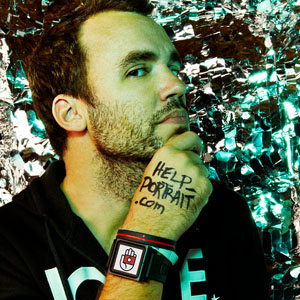 Here at Paste, we define our idea of "signs of life" as sorta like that old definition for pornography: "You know it when you see it." Photogapher Jeremy Cowart's non-profit, Help Portrait, is a brilliant example of a sign of life. Cowart, an in-demand entertainment photographer (he's done Paste covers featuring Modest Mouse, Of Montreal and more), launched Help-Portrait in 2009 to serve those in need.
However, unlike most charitable efforts, Cowart's effort is oriented around what could be perceived as a luxury, portraiture, but turns out to be far more. What follows below is a Q&A with Cowart and a gallery of Help-Portrait's work.
Everywhere I see your name with any kind of bio, it describes you as a "celebrity photographer." What does this actually mean? Are you a celeb? Would you take my picture?
It means I'm a photographer that takes photos of celebrities for a living. I've actually never considered that that might sound like I'm calling myself a celebrity, haha. Note to self. And yes, I'll take your picture. But only if you dress like a celebrity. Preferably Whoopi Goldberg. Or Rick Astley. Or a combo of both.
So what is Help-Portrait and why did you start it?
Help-Portrait is "a global movement of photographers using their time, gear and expertise to give back to those in need." I started it cause I just wanted to figure out a way to help people during the holidays. I just thought it would be "cool" to do. I had no idea it would be so life-altering for so many people. But it really has been.
When we think of helping people in need, it's always the physical stuff and what you're doing is different. What needs is Help-Portrait addressing?
It's addressing the soul. I did a Help-Portrait event a couple weeks ago. One of our subjects we photographed said, "Thanks for making us feel human again." We're showing them some dignity and showing them respect and literally showing them how beautiful or interesting they are. It can be a game changer. We've had people say "This photo is a reflection of where I'm going, not where I've been. I can't wait to show my mother this. She hasn't seen me in 30 years."
OK, so in two years, Help-Portrait has kind of blown up, yet it's all so decentralized. What can we learn from how you've grown this movement?
Not sure. I think everyone wants to help. People just don't know how to. This movement has really empowered people to use what they already have to help the people already around them. It's painfully simple but has a profound impact. I think it teaches us that everyone is willing, able and ready. We just need the ideas to lead us.
What's new in your plans for this year?
This will be our third annual event on Dec. 10, worldwide. Photographers, makeup artists, volunteers around the world will be getting together at various locations to give photos to people in need… the homeless, the abused, the elderly, the sick, the forgotten, you name it.
In the past, we haven't shown any photos. But this year, we're showing the photos for the first time (only if the subject is willing or interested in telling their story.) It's a game-changer for us, and I think it will radically grow our movement once the world sees what we get to experience. We're also letting our subjects write their story on the photo, which also takes it to a new level. I couldn't be more excited for this year's event. Seeing all the photos and stories pour in from around the world is going to be my Christmas.
Others Tagged With