Adam Sandler's Jack and Jill: Worst Film of the Year?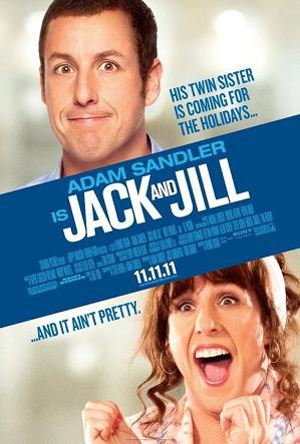 Adam Sandler has come a long way since his days playing a hockey enthusiast relegated to winning money on the PGA Tour and an adult going back to elementary school. We're talking of course about Happy Gilmore and Billy Madison, and unfortunately the long way we're talking about is down and not up.
Sandler's latest effort, Jack and Jill, where he plays twins, has received the dreaded 0 percent on Rotten Tomatoes' Tomatometer. So far there have been 45 critic reviews collected by the site, and not a single one of them is positive.
Here's what some of the critics had to say about the film:
"I'm not even sure this qualifies as a real movie." – Brian Orndorf (BrianOrndorf.com)
"More than 24 hours has passed since I watched the new Adam Sandler movie Jack and Jill and I am still dead inside." – Mary F. Pois (TIME)
"It's pretty sad if you're a comic and Al Pacino is the funniest thing in your movie." – Lou Lumenick (New York Post)
"It is indeed every bit as lousy as it looks. So kudos to the marketing department, I guess. They nailed this one." – Eric D. Snider (Film.com)
Got news tips for Paste? Email news@pastemagazine.com.
Others Tagged With