Congress Looks to Pass Anti-File Sharing Legislation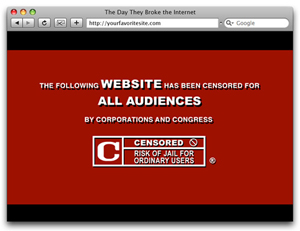 In an effort to crack down on rampant illegal file sharing, the Senate and the House of Representatives have both recently proposed new pieces of legislation that, if passed, could have serious consequences for how people share media over the Internet.
The two bills — Stop Online Piracy Act (SOPA), which originated in the House, and the Protect IP Act, which originated in the Senate — have been proposed with good intentions, namely to protect ownership of media and curb the illegal downloading crisis. But opponents of the legislation worry it will create a government-operated Internet firewall and steer the nation's Web-based policy toward that of countries such as China.
If SOPA and the Protect IP Act pass in Congress — which is highly likely, as both Democrats and Republicans are supportive — the government will have the ability to block or shut down any websites that host a song or video they don't own the rights to. Moreover, they could do so without court intervention of any kind.
The proposed bills have been met with opposition from large Internet-based companies, including Facebook, Google, Yahoo, Twitter and eBay, but organizations and groups that depend on the monetization of media to make a living — the U.S. Chamber of Commerce, the Motion Picture Association of America, the Screen Actors Guild, the Directors Guild of America, the American Federation of Musicians and the International Brotherhood of Teamsters — have all expressed adamant support.
Opponents argue that such a stringent law that also places such a large amount of power in the hands of the government has to do with more than protecting copyright. If the government can freely censor Internet content without the need for a trial, these pieces of legislation could lead to an abuse of power and pose a serious threat to freedom of speech and democracy — two concepts the Internet has been absolutely essential in preserving since it began.
Got news tips for Paste? Email news@pastemagazine.com.
Others Tagged With