Cursive's Matt Maginn Talks New Album, I Am Gemini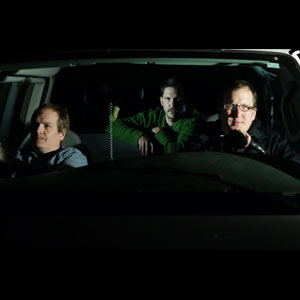 Omaha, Neb.'s Cursive is set to release the follow-up to 2009's Mama, I'm Swollen. The album is called I Am Gemini and will be released Feb. 21 on Saddle Creek. It was produced by Mastodon and Minus the Bear producer Matt Bayles.
"He's such a talented producer," said Cursive bassist Matt Maginn about Bayles. "These songs were catered more toward his sound than anything we'd done lately."
The sound that Maginn is talking about is a riffier, weirder take on the band that he'd place somewhere between the group's early LP Storms of Early Summer and the heavy, breakout Burst and Bloom EP.
"There's a lot of twists and turns and some riffing," Maginn said. "It's nothing too far away from what we've done in the past, but we haven't done it in a few records."
Like a lot of the band's previous work, the album is highly conceptual, centering around two twin brothers, Cassius and Pollock, who are separated at birth. Maginn told Paste that the album was written and sequenced instrumentally first, and guitarist/vocalist Tim Kasher laid down the whole overarching story once that was finished.
"He did sit down and then one song at a time he worked the record in order to tell this story," Maginn said. "Sequencing the record in advance is fairly terrifying, to be honest. We've labored over sequences so much in the past," but added later that he was happy with how the sequence turned out.
The band will also tour behind the album, starting on Feb. 12 in Denver, Colo. at the Larimer Lounge and ending Mar. 3 in Omaha, Neb. at Slowdown. You can see the album's track list and tour dates below.
Track List
1 - This House Alive
2 - Warmer Warmer
3 - The Sun and Moon
4 - Drunken Birds
5 - Lullaby for No Name
6 - Double Dead
7 - Gemini
8 - Twin Dragon/Hello Skeleton
9 - Wowowow
10 - This House a Lie
11 - The Cat and Mouse
12 - A Birthday Bash
13 - Eulogy for No Name
Tour Dates
February
12 - Denver, Colo. @ Larimer Lounge
14 - Salt Lake City, Utah @ Urban Lounge
15 - Boise, Idaho @ Neurolux
17 - Seattle, Wash. @ Neumo's
18 - Vancouver, B.C. @ Media Club
19 - Portland, Ore. @ Bunk Bar
24 - Los Angeles, Calif. @ Troubadour
25 - Pomona, Calif. @ Glasshouse
26 - San Diego, Calif. @ Casbah
27 - Tempe, Ariz. @ Crescent Ballroom
28 - Albuquerque, N.M. @ Launchpad
March
3 - Omaha, Neb. @ Slowdown
Got news tips for Paste? Email news@pastemagazine.com.
Others Tagged With