Hell On Wheels Review: Series Premiere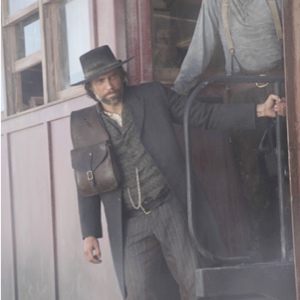 Being the new series from AMC carries some heavy expectations after Mad Men, Breaking Bad, The Killing, The Walking Dead and, to a lesser extent, Rubicon. Some heavy-handed introductions in the premiere make me wonder if Hell on Wheels has the potential to deliver.
The show is set at the leading edge of the Union Pacific railroad in 1865. The Civil War has just ended and slavery has been abolished, but neither have been easily forgotten. Confederate veteran Cullen Bohannon (Anson Mount) has headed West in a plot to avenge his wife, killed in the war by members of Sherman's army. The show opens with one of the guilty soldiers in a confessional, and Bohannon sending the young lad to meet his maker. Bohannon's God, we learn, is his Griswold revolver, and he's as cool as, well, whatever the opposite of a whorehouse on nickel night is.
He was a slave owner, but—since he's our hero—an enlightened one, freeing his slaves a year before the war, thanks to his Northern wife. His new boss isn't quite so refined, showing his regard for African-Americans by beating and accidentally killing a man for taking his water break early. Conveniently, he also happens to be the man Bohannon is after.
The premiere is only an hour, so the other characters we meet are summed up in a series of quick archetypes. Lily Bell (Dominique McElligott) is the strong frontier woman who laments that the beauty of the prairie will soon be corrupted by the arrival of the white man. While nearly getting killed by Cheyenne hunters, she loses her husband, the railroad's cartographer, but rescues his maps. Former slave Elam Ferguson (Common) finds that things haven't changed all that much since Lincoln's Emancipation Proclamation and considers using a copy of it to wipe his ass.
We also briefly meet a pair of good-natured Irish brothers seeking their fortunes; a minister looking to rid the evil from the town of Hell on Wheels; a prostitute spitting on that minister's shoes; and Joseph Black Moon (Eddie Spears), a recently baptized Native American, who'll play a larger role in navigating between the two frontier civilizations.
But at the head of it all is Thomas "Doc" Durant (Colm Meaney), the railroad baron. Shamelessly bribing a senator, breaking his engineer's nose for failing to screw the federal government out of the maximum subsidies and generally playing the part of the villain who's self-aware enough to refer to himself as the villain, Durant makes it clear that the creators of Hell on Wheels, Joe and Tony Gayton, aren't much interested in shades of gray.
What they are interested in, though, may prove to be just interesting enough: justice served Western-style, with a quick draw or sharp knife, as evil men get their due. For it to live up to its network brethren, however, this dish of revenge better get served with a recipe we haven't tasted a thousand times before.
Others Tagged With