Summer Camp: Welcome to Condale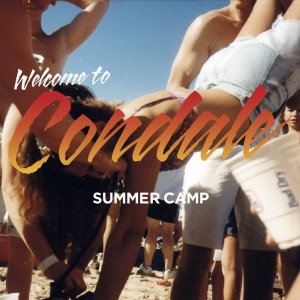 The attractive members of U.K. duo Summer Camp are precocious, but not overly precious—that is, their boy-girl harmonies and synth-pop innocence are less grating than one might assume. In fact, Summer Camp's debut Welcome to Condale is a rather diverse affair for being essentially a good-time summer pop record.
Elizabeth Sankey and Jeremy Warmsley give us the fictional 'burb of Condale to spin their yarns of teen spirit and lost love. Lyrically, it's the equivalent of a John Hughes joint. What saves Welcome to Condale from slipping into overly precious pap are the ways in which the tunes themselves create the mood, whether it's "woe-is-me," or "Me! Me! Me!"
Opener "Better Off Without You"—which would not be out of place sandwiched between "If You Leave" and "Left of Center" on the Pretty In Pink soundtrack—is bursting with anthemic energy. "I Want You" takes a more sad and sinister approach with its pulsing synth and the memorable, yearning line: "If I could I'd kiss your lips so hard your entire face would bruise / Put your name and blood on everyone and make the evening news." Sorta gives Duckie and Andie's relationship a whole new meaning.
While Summer Camp lives and dies by the synthesizer and Casio-toned beats, there are also loads of handclaps ("Brian Krakow"), whistles and fuzz guitar lines ("Down") dropping in and out of the party to keep things fun and loose. And Sankey's vocals are incredible, soaring high in the mix whether they're au naturale or cloaked in distortion. There's plenty of unpredictability in these simple, three-minute pop tunes.
I guess it's only fitting that Welcome to Condale ends with a song called "1988." And even though these products of the '80s know how to push our nostalgic buttons, it doesn't come off as hamfisted or sappy. Spoiler alert: In Condale, the boy doesn't always get the girl. Perhaps Summer Camp is more Boaz Davidson than John Hughes.
Others Tagged With