Watch and Listen to Songs from The Muppets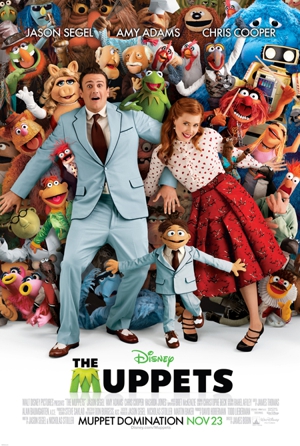 With The Muppets coming to theaters on Thanksgiving, more material is being released from the highly anticipated film.
A clip from the opening of the film has been released, featuring Jason Segel and new Muppet Walter, voiced by Paul Rudd, singing and dancing down the street to "Life's A Happy Song."
A track from the upcoming soundtrack was also released, the entire version of "Life's A Happy Song." This version of the song comes from the end of the film and features Feist and Mickey Rooney along with plenty other Muppets, and was written by Bret McKenzie of Flight of the Conchords. The soundtrack also had some interesting choices, such as "Smells Like Teen Spirit" by The Muppets Barbershop Quartet, and gains the distinction of being the only soundtrack to feature Sarah Silverman, Andrew Bird and Chris Cooper on the same album.
The Muppet Original Soundtrack comes out on Nov. 21, two days before The Muppets is released on Nov. 23. Check out the clip of the opening, the new track and the entire tracklist below:
1. "The Muppet Show Theme" (featuring Joanna Newsom) by The Muppets
2. "Muppet Studios, I Can't Believe It" by Walter
3. "Life's A Happy Song" by Jason Segel, Amy Adams and Walter
4. "I Haven't Seen the Old Gang" by Kermit and Jason Segel
5. "Pictures In My Head" by Kermit and The Muppets
6. "We Drive" by Kermit and Walter
7. "Me and Julio Down By The Schoolyard" by Paul Simon
8. "That Spells Reno" by 80's Robot and Amy Adams
9. "Rainbow Connection" by The Muppets
10. "Welcome Back" by Kermit, Fozzie, Walter and Dr. Teeth
11. "We Built This City" by Starship
12. "Party of One" by Sarah Silverman and Amy Adams
13. "Me Party" by Amy Adams and Miss Piggy
14. "We Humbly Ask" by Kermit and Chris Cooper
15. "Let's Talk About Me" (featuring Nathan Pacheco) by Chris Cooper
16. "The Answer Is No" by Chris Cooper and Kermit
17. "Are You A Man Or A Muppet?" by Amy Adams
18. "Man Or Muppet" by Jason Segel and Walter
19. "Down At The Ole Barbership" by Kermit
20. "Smells Like Teen Spirit" by The Muppets Barbershop Quartet
21. "Princess of Poultry" by Kermit
22. "Forget You" by Camilla and The Chickens
23. "It's Time for Our Song" by Kermit and Miss Piggy
24. "Rainbow Connection" by The Muppets
25. "Get Out There and Help Those Guys" by Jason Segel
26. "The Whistling Caruso" by Andrew Bird
27. "How Charming, A Finale" by Uncle Deadly
28. "Life's A Happy Song" (featuring Feist and Mickey Rooney) by Finale Entire Cast
29. "Mary, Marry Me" by Jason Segel and Amy Adams
30. "Mahna Mahna" by Mahna Mahna and Two Snowths
Got news tips for Paste? Email news@pastemagazine.com.
Others Tagged With