Watch TV on the Radio and Tinariwen Join Forces on Colbert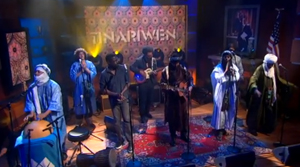 Stephen Colbert may purport to only care about America in his persona, but his guest stars suggest he's more worldly than he lets on. The Mali-native collective Tinariwen appeared on The Colbert Report last night in support of their album Tassili, released earlier this year. The band played two cuts from the album and participated in an interesting interview.
Though the group's members speak very little English, they were assisted by a female translator — and also TV on the Radio's Tunde Adebimpe and Kyp Malone. During the interview, the TVOTR co-frontmen talked of how they became involved with Tinariwen as well as their experiences sharing a bill with them at Coachella and performing on Tassili.
For Colbert's part, he was mostly tactful when addressing the members of Tinariwen, asking honest questions about their history in Mali and experience in Libya under Gaddafi's rule. He did advise the members, two of whom wore tagelmust veils common in Tuareg culture, not to go through airport security dressed like that when departing the U.S. today — he added to the translator, "You don't have to translate that one."
Tinariwen then teamed up with Adebimpe and Malone to perform "Tenere Taqqim Tossam" for the live broadcast of The Colbert Report. Check out the performance, as well as the interview and Internet-only bonus performance "Imidiwan Ma Tenam," below:
Interview:

"Tenere Taqqim Tossam":

"Imidiwan Ma Tenam":

Got news tips for Paste? Email news@pastemagazine.com.
Others Tagged With