Fucked Up Releases New Singles, New Music Video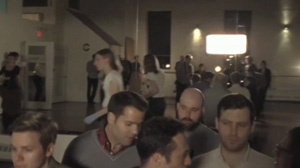 It's been a busy, busy year for Fucked Up. Not only have they released a full-length concept album, David Comes to Life, and a Record Store Day-exclusive companion piece David's Town, but now they're preparing to unleash two new singles. One is a split 7-inch with fellow Toronto rock band Sloan, while the other is a 12-inch called "Year of the Tiger" and is part of the punk band's ongoing series of Chinese Zodiac singles.
The collaboration with Sloan is Christmas-themed and, logically, will be available before Christmas. Fucked Up are aiming to release the special 7-inch at the band's Toronto show on Dec. 20. Proceeds from the single, which will include Fucked Up performing "Jingle Bells" and Sloan performing "12 Days of Christmas," will benefit the COUNTERfit Harm Reduction Program as well as the Barriere Lake Legal Defense Fund.
"Year of the Tiger" will be released Feb. 21 and has been touted by the band as one of their most accomplished pieces of music. The song will allegedly be structured as a 15-plus-minute epic and feature a handful of guest collaborators. Some of the single's proceeds will go to the Save the Tiger Fund.
Even with their future looking busy, Fucked Up isn't done fleshing out the concept of David Comes to Life: The group just released a music video for album track "Turn the Season," which you can watch below:
Got news tips for Paste? Email news@pastemagazine.com.
Others Tagged With
Recommended