George Takei Urges Sci-Fi Nerds to Unite Against Twilight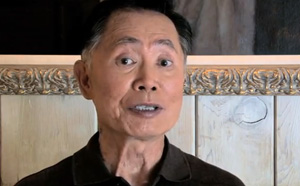 Recently, William Shatner and Carrie Fisher rekindled the classic Star Trek vs. Star Wars debate by taking swipes at one another and their respective camps via the Internet, presumably to try and stir up public interest for both franchises, as lately they seem to have taken a pop-culture backseat to vampires and wizards.
Now George Takei, most famous for his role as Sulu in Star Trek (but also voicing Lok Durd in the Star Wars animated spinoff series Star Wars: The Clone Wars, making him the only actor to appear in both franchises), has come up with a more practical, less mutually destructive idea for the warring sci-fi parties: team up and focus together on the evil that is the Twilight saga.
In a videotaped statement posted to YouTube, Takei explains in his classic charismatic/dramatic style that both franchises are "wonderful in their own special way," urging both Shatner and Fisher to "shut [their] wormholes" and focus their energies to combat the growing popularity and influence of the Twilight franchise in the name of something he dubs "Star peace."
In his attack, Takei refers to the Twilight series as "really, really bad." He does go on to elaborate on the superficiality and lack of substance in the films, commenting that "there are no great stories, characters or profound life lessons to be had in Twilight." Whether his comments will end the existing debate or ignite a new one between the sci-fi nerds and the vampire-obsessed tween demographic, we couldn't have said it better ourselves.
Check out Takei's full statement below:
Got news tips for Paste? Email news@pastemagazine.com.
Others Tagged With