Louis C.K. Sold Over 110,000 Copies of His Special in Three Days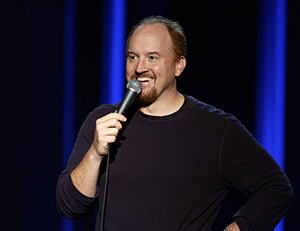 In a statement posted last night on his website, comedian Louis C.K. revealed that over 110,000 copies of his new comedy special, Live at the Beacon Theater, have been purchased since it was made available on Dec. 10.
As part of an online experiment, C.K. decided to release his new special exclusively through his website for $5 via PayPal in order to keep prices low for fans, to keep the product free of corporate restrictions and to see if he could turn a profit for it online or if everyone would just torrent it. In a direct-to-fans Q&A session on Reddit, C.K. elaborated on his motives behind taking this sort of risk, explaining he's waiting to see if the idea will pay off and, if it does, he will hopefully be able to use the profits to finance his own movie.
Needless to say, the experiment was a resounding success, as the total gross from sales of Live at the Beacon Theater so far amounts to more than $500,000 and more than covers the special's $170,000 production cost.
In his official statement, C.K. wrote:
… [A]t this point I think we can safely say that the experiment really worked. If anybody stole it, it wasn't many of you. Pretty much everybody bought it. … If the trend continues with sales on this video, my goal is that i can reach the point where when I sell anything, be it videos, CDs or tickets to my tours, I'll do it here and I'll continue to follow the model of keeping my price as far down as possible, not overmarketing to you, keeping as few people between you and me as possible in the transaction. … I got to do exactly the show I wanted, and exactly the show you wanted.
C.K. added by performing this online experiment, he also "got an education." "I learned that people are interested in what happens and shit (i didn't go to college)," he said.
Although C.K. clearly wants to continue the trend of releasing material directly to fans without the intervention of big companies and promoters, he stated he reserves the right to change his mind should future releases of this kind prove unprofitable. But he also stated we have the right to torrent anything he releases through a big company, so we can live with that.
Got news tips for Paste? Email news@pastemagazine.com.
Others Tagged With
Recommended