New Girl Review: "The 23rd" (Episode 1.9)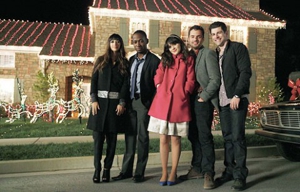 As New Girl wraps up for 2011 with its Christmas episode "The 23rd," I think we really get a sense of how far the show has come. Paul, Jess' boyfriend at the beginning of the episode, not so much at the end, described his Christmas gift of a stuffed recreation of a 50-year-old's heart as "funny and quirky and so sweet" and as a show, New Girl has truly owned that description, but we are getting to see New Girl finally as something more than just Jess being cute and the guys having to deal with that cuteness' repercussions, such as awkwardness when it comes to sex or having to get stuff back from her ex. Yes, it makes sense that their Christmas episode would be the one to bring all the core characters together in a great way, but it seems more like New Girl is finally finding an interesting balance between its characters and who they really are.
The basic premise of "The 23rd" is one that has been seen countless times in sitcom history: one person in a relationship says "I love you," the other person doesn't respond in the desired way. From the moment Paul states his feeling to Jess, we know he's gone. Frankly, we knew he wasn't going to be sticking around from the moment he showed up in a gourd costume in "Thanksgiving."
The entire group is invited to Schmidt's office Christmas party, where he plays sexy Santa, since he's the only man—even though he's Jewish. Not sure why all Schmidt's friends are invited to a Christmas party where none of them work, but that's irrelevant.
What really made "The 23rd" great was the interesting character interactions and the deeper understanding of who these characters are. We get some fantastic genuine moments involving Cece. When Schmidt arrives at Cece's photo shoot for a diet pill to give her his Christmas present, it's a nice moment where we realize that Schmidt is interested in Cece for more than just her body. There's also a moment of Cece and Jess hiding from the party in the bathroom that doesn't do much other than show why these two are friends and how far back they go. I've always enjoyed these quiet touches on New Girl amongst the antics usually occurring.
Winston's character has been slowly building throughout the season, but I think "The 23rd" starts to focus on where we will see the character go, while Nick gets some of the episode's funniest moments, like how his terrible gift-giving skills have left him giving Winston a frozen burrito in a plastic bucket and young children tacks. Nick also gets to play the audience cipher when he gets stuck in between the Jess-Paul breakup and gets some great uncomfortable moments with Paul, but he also initiates the episode's heartwarming final moments.
But the character that truly has the best arc is actually for once Jess. The quirky side is toned down considerably, and for once, Jess handles the situation in an adult manner as opposed to with gimmicks and cute side trips. I think the show has finally found the right balance of awkward, sweet and just normal reactions to situations.
I think the best episodes of New Girl are similar to the show's attitude towards Christmas. The anticipation is always great, but there's always some sort of disappointment. But what's great about New Girl and what it does in those situations is that the show's characters finds comfort in each other and are able to overcome through the power of each other. That's what makes New Girl a show worth coming back to. I think with "The 23rd," more so than any other episode so far, we see this group as an unusual family rather than as roommates of convenience. That's when New Girl succeeds, when it becomes less about quirk and becomes more about the connections we form, and "The 23rd" greatly figures that out.
Others Tagged With