SyFy Stars Discuss Authentic "Smacting," Technology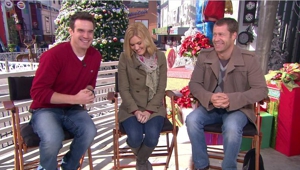 Colin Ferguson has been the star of SyFy's Eureka for six years now, and even though the science-fiction show is ending after this season, he still loves his job.
We chatted via a video call when he revealed that his favorite aspect about working on such a dynamic show was being able to take part in both dramatic and comedic scenes and being able to work with special effects and stunts.
"You sort of get to do everything," he said with a smile.
Eddie McClintock of Warehouse 13 and Emily Rose of Haven couldn't agree more.
McClintock expressed his love for the ability to stretch his acting skills on a daily basis. "I get to be funny, brave, loyal, smart and athletic. I get to have all these facets of a character instead of coming in and doing the same thing every day."
He then explained an acting term widely used among sci-fi actors: smacting.
"[It's] when you're working on a green screen and the director will be yelling, 'There's an apparition floating and you're scared, but yet you're excited and at the same time you're a little sad.' When there's absolutely nothing there for you to draw on as an actor is when you have to make up the whole thing."
Rose added, "One of the exciting things doing sci-fi that the concept of imagination gets really put to the test. You are allowed to imagine as much as you can and you are required to because if you don't you'll feel dumb doing these smacting things."
All three were adamant that believability, even in an unbelievable setting, was the most important feature of sci-fi acting. Not only must the acting be authentic, but the technology that the series relies on must also be up to speed.
"It's also the genre that allows us to utilize technology in this medium as fast as it's developing and try to keep up with that," Rose said. "On a weekly basis we're making a show with special effects and things that are pleasing to the eye in that way on a television show when you normally see in the movies."
Ferguson praises the fans of the shows for the high demand of genuine props: "What we love about that is that they're so savvy – you can't really pass off a cheesy special effect because they won't have it"
He added that when Eureka started six years ago that he felt the futuristic technology they were using was absurd. "I mean there was no keyboard and of course now there's the iPhone came out and it was the same thing. And now we're outdated because what we use on the show looks worse than what we use as people."
We all laughed, but then McClintock pointed out that we were on a video call—something that used to be considered science fiction. "The fact that all of the things we grew up thinking were science fiction are now science fact. The real world has caught up with the sci-fi world and now it's more mainstream than ever."
Got news tips for Paste? Email news@pastemagazine.com.
Others Tagged With