Cate Le Bon: CYRK
[The Control Group]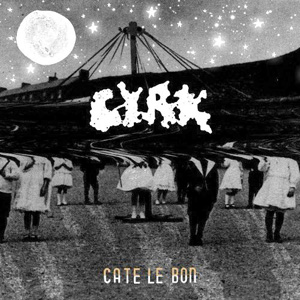 In 2003, the novelist Charles Baxter, author of The Feast of Love and the short story collection Gryphon, wrote a curious essay for The Believer about how fiction writers were no longer taking the time to describe the facial features of their characters, at least not to the exacting extent that Charles Dickens, Henry James, Thomas Hardy and others did during the 1800s. "In the practice of any art, there are some procedures and practices that artists somehow forget how to do through neglect or distaste or their inability to concentrate their imaginative forces," Baxter wrote. "Something had been given up."
Baxter might appreciate CYRK, the latest album by Welsh singer-songwriter Cate Le Bon. It's not a work of fiction, but on these 10 songs she fixates on faces, peppering her lyrics with affectionate descriptions of foreheads, chins and everything in between. In opener "Falcon Eyed," she sings about how memory erodes those distinctive identifying features: "In a moment the absence erodes all the sights and the symmetry falls from the sides," she sings over a snappy guitar riff. "It's the curl in his hair and his falcon-eyed stare."
A Cardiff native who has toured and collaborated with Gruff Rhys of Super Furry Animals, Le Bon emphasizes the physical in both her lyrics and her music. Her voice is beautifully off-kilter and off-key, with a thick phrasing that has rightfully earned her comparisons to Nico. Her songs have the single-mindedness of the Ramones, the melodic exuberance of Os Mutantes and the avant garde sensibility of Chicks on Speed. And yet, like all good artists, she manages to turn these referents into something that's maybe not groundbreaking, but charmingly idiosyncratic.
Because Le Bon appreciates the juxtaposition of instruments, CYRK sounds elemental—lushly minimal. Despite the invigorating jolt of "Falcon Eyed," which will surely get scooped up for a car commercial or sports ad this year, the album sounds best when it slows down a bit and takes its time. "Puts Me to Work," the midtempo first single, sets Le Bon's skewed vocals against a rickety piano to bolster one of her finest hooks, while "Greta" almost unstitches itself in a tangle of piano patter, wordless vocals and a trumpet that sounds like it's coming from somewhere else in the building.
As it progresses, CYRK loses some of its musical and descriptive vitality, but Le Bon lingers over these physical depictions, lending her songs a beguiling tactility as well as a strong gravity. "Greta" depicts a character with eyes "the size of lagoons, all dreamy and wild." It's a vivid portrait, and it's all you need to envision Greta herself. But the phrase "all dreamy and wild" would certainly apply to Le Bon's music as well, which is boisterously exuberant, eccentric yet completely approachable.
Others Tagged With