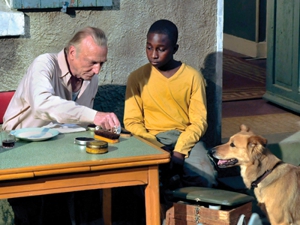 One would have every reason to believe the film Le Havre is French. After all, the film's title stems from a namesake city in the Seine-Maritime department of the Haute-Normandie region in France, a fairly indiscriminate and dowdy portside town that serves as excellent fetishist fodder for Francophiles. But as it's helmed by Finnish director Aki Kaurismäki, Le Havre is so Finnish it's actually Finland's official Oscar submission for Best Foreign Language Film.
Not unlike many harbor cities dotting the coast in northwestern France , Le Havre's deadpan ambiance is a focal point for this simplistic fable. It turns out that even ugly suburbanites swilling cheap wine in dowdy cafés and stark industrial areas take on a romantic veneer when French is spoken rather than bland gringo warble.
The story centers on teenage African refugee Idrissa (Blondin Miguel), who meets Marcel Marx (André Wilms), a well-spoken bohemian and self-employed shoe shiner. Idrissa becomes stranded in Le Havre after a half-hearted escape attempt to London, and Marcel subsequently offers him sanctuary and aids his final escape.
For Marcel, taking Idrissa under his wing offers hope and distraction from a terminally ill wife in the hospital. A montage of sweet and moralistic scenarios follows, with Marcel reuniting an estranged musician couple so they can perform at a benefit fundraiser to send Idrissa to London, and the local community colluding to hide Idrissa from zealous cops.
It's all very sweet, though the tidy minimalism of Le Havre at times lacks complexity—the polemic associated with the social issue it tackles is often far uglier than the palatable innocence presented by the film. (For example, nearly 40 percent of the French population supports forcible repatriation of unemployed immigrants, and 22 percent supports forcible repatriation of all immigrants.)
Nonetheless, despite the ugliness that lurks just beneath its irreverent façade, Le Havre is a fun way to spend 90 minutes and indulge one's inner Francophile.
Director: Aki Kaurismäki
Writer: Aki Kaurismäki
Starring: André Wilms, Blondin Miguel & Jean-Pierre Darroussin
Release Date: Oct. 21, 2011 (Los Angeles & New York)
Others Tagged With