NBC: "Community Has Not Been Cancelled," Fourth Season Still In Jeopardy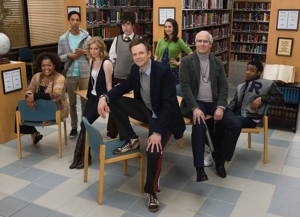 The Television Critics Association's (TCA) press tour schedule kicked off on Tuesday, but no news has made a splash until NBC Universal's chairman Robert Greenblatt spoke at the conference today. Tweets began to pour out from the likes of IMDb TV, TV Guide and other television news outlets quoting Greenblatt live.
What exactly is Greenblatt discussing? Why, our number one sitcom of 2011, Community, of course.
Alan Sepinwall of HitFlix tweeted, "'Community has not been canceled. It will definitely be back later this spring.' -Greenblatt #TCA12." Other sources cited that all 12 episodes will air, but a precise date has yet to be announced. Greenblatt and NBC are eyeing Wednesday nights as a potential home for the show." What is certain is when it does return, it will not lead off a night like it previously did on Thursdays.
Though it seems that the cult hit will return to finish its third season sometime soon, the future of the series is still in jeopardy. Greenblatt has been quoted by IMDb TV as being reluctant to commit to a fourth season until he sees new pilots. Furthurmore, TV Guide tweeted, "Fourth season decision on #Community will be made closer to upfront in May. It depends on what fails #TCA12."
You can follow #tca12 for up-to-date news on the press tour, but it looks like all of the Community news is finished for the day.
Got news tips for Paste? Email news@pastemagazine.com.