Shonen Knife: Osaka Ramones
[Good Charamel]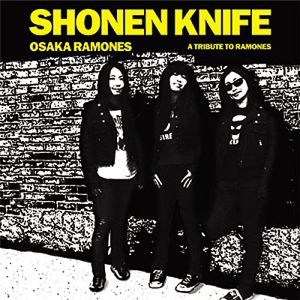 International cult favorites celebrate big 3-0 with epically fun tribute to their biggest inspiration
When their first homemade cassette came out in Japan in 1982, who woulda thought that Shonen Knife would still be around, making records and touring the world, 30 years later? Back then, the all-girl Japanese pop punkers could barely play a note, but their enthusiasm—as infectious as their English was hilariously, endearingly garbled—carried them through until their musicianship (and pronunciation) finally caught up.
As much as the band's continued existence is a testament to the power of its earnest, unflagging love for rock 'n' roll, the tribute, Osaka Ramones, underscores Shonen Knife's deep reverence for the primal melodic prowess of the album's subject, arguably SK's biggest influence. Singer/guitarist Naoko Yamano and her cohorts are the perfect power trio to pay homage to these three-chord punk legends.
Having endeared themselves as far back as the late '80s to in-the-know alt-rockers like Fugazi, Sonic Youth and Nirvana (the latter of whom they opened for on the European leg of 1991's Nevermind tour), Shonen Knife has become quite legendary in its own right. They've has also had plenty of practice with The Ramones' catalog, playing countless gigs through the years as side-project tribute act The Osaka Ramones. But most importantly, just like The Ramones before them, Shonen Knife has always been able to hang on to the slippery naivete, innocence and fun of rock 'n' roll's earliest, purest incarnations, their "twist barbies" and "BBQ parties" updating the same simple, enduring "chicks and kicks" archetype The Ramones explored in "Rock and Roll High School." It's a song Shonen Knife ably cranks through on the album, which features a stellar sampling of their beloved heroes' best tunes, from "Rockaway Beach" and "Chinese Rock" to "The KKK Took My Baby Away."
If you're seeking cool, ironic detachment, best look elsewhere. But if you want to hear fresh blood pumping exuberantly through the veins of these classics, give Osaka Ramones a spin.
Others Tagged With