Sundance Report: James Murphy, Drake & Wiz Khalifa To Play The Bing Bar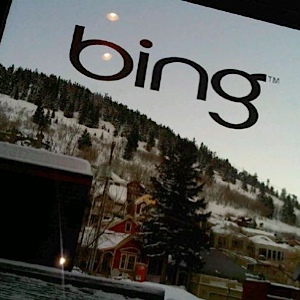 Many brands, large and small, have attempted to reach Sundance crowds to increase awareness of their offerings, but over the past few years no one has gotten more extravagant than Bing. This year, the Bing Bar expands to three floors with more activities—and bigger names—than ever.
The evening line-up includes Wiz Khalifa on Friday, Drake on Saturday, Cobra Starship on Sunday, Theophilus London on Monday and James Murphy in one of his first post-LCD Soundsystem performances on Tuesday. Happy Hour artists include Gary Clark Jr, Cool Kids, Grouplove, and Fitz and the Tantrums.
Another very big name has an even tighter association with Bing Bar: Jason Mraz, who'll perform on Friday from 12 to 2. "He's there on behalf of a contest he's been involved in with Intel and Asus, called 'In Search of Incredible,'" says Lisa Gurry, director of the Bing Bar. "So he's actually kind of doing a speaker series/performance tied to this filmmaker competition, which is looking for incredible stories told through film. He's going to be presenting the winner of that contest and also performing."
Despite the big names, the headliners won't be playing to huge rooms. "The Bing Bar is going to be bigger than ever," Gurry says, "but it's still a small venue. We do love the opportunity to offer a more intimate environment and a unique opportunity for their fans to see them up-close and personal. This year, the majority of the performers will be performing in the basement, which is the new component to the Bing Bar that we're opening up. That will hold around 350 people. It's pretty intimate environment for folks to be able to see those bands. And we are live streaming the majority of those shows with the exception of Drake and Wiz Khalifa."
The Bing Bar will also host speakers, including the cast of the new Catherine Zeta-Jones film Lay the Favorite, the Creative Coalition and snowboarder Kevin Pierce, returning back to Park City since suffering a severe head injury in a tragic accident. "He's going to be back in Park City for a speaker series about overcoming," says Gurry. "We thought it was a really incredible story that's a great format at Sundance, obviously, given the community. They've really nurtured Kevin over the last couple of years and I thought that would be a really interesting addition to the speaker series."
In a very short time, the Bing Bar has established itself as one of the most exciting – and sometimes exclusive—stops on festivalgoers' Sundance itinerary. "This is our third year at Sundance," Gurry explains, "and it really started with Bing, which was a very new search engine at the time, becoming the official search engine of the Sundance Film Festival. So on Sundance.org, if you searched, you were searching on Bing. And Bing is the mapping technology for the mobile app for the festival. So it started off as a smart way to introduce the Sundance community and working with the Sundance festival leaders from a technology play. Our first year, we did some on-site parties that were a lot of fun. What we found was that the Sundance Festival was fabulous to work with, that the community really embraced the activities that we held, and we found it as a great way to introduce entertainment fans to Bing as a product."
This will be the third year Bing has partnered with Sundance, providing search on the Sundance website and hosting bigger events each year. "We'll be live streaming so many of the activities, which helps us extend beyond Sundance," she says, "It really provided us a great way for us to build that continual brand awareness and brand affinity for Bing."
This year, Bing is also increasing their festival social media presence with some pretty unique offerings, as festivalgoers will be glad to hear: "For those folks that want a little gift from Bing, we're doing a concierge service for the first time. That Twitter hashtag is #kingbing. If you need a ride, we have Bing-branded vehicles that can give you a ride from point-a to point-b. We'll be giving away free sweatshirts and scarves and mittens, free movie passes, a wide range of free items that should make your Sundance experience even better."
Others Tagged With