Sundance Report: Three Great Comedies
Among the narrative films at Sundance 2012, the comedies seem to be getting the most buzz. Here's an early report on three of the best: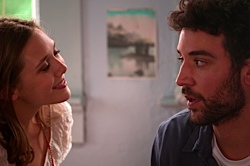 LIBERAL ARTS
When Josh Radnor's happythankyoumoreplease won the Audience Award at Sundance 2010, expectations skyrocketed for his second directorial feature. Armed with one of Sundance 2012's most talented cast ensembles, Radnor knocks those high expectations out of the park with Liberal Arts. Elizabeth Olsen is perfect as Radnor's age-inappropriate-friend-maybe-more, and Richard Jenkins and Allison Janney are delicious in their supporting roles. But the real star of the film is Radnor's writing. It's funny, moving, thoughtful, true and—above all—ennobling. He's such an openhearted and earnest writer, and the journeys his characters go on are, among other things, beautiful explorations of how life should be lived and understood. The audience in the 2,000-seat Eccles Theater was eating out of Radnor's hand, spontaneously bursting into loud applause at least three times at particularly brilliant moments, and it took him nearly a full minute at the podium to convince the crowd to let him speak. The best film of the festival, at this point, and an exciting confirmation of Radnor's staying power as a writer/director.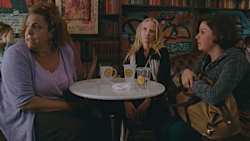 THAT'S WHAT SHE SAID
I was more then a little bit nervous going into a midnight screening of Carrie Preston's That's What She Said at the Prospector Theater. Most people know Preston as a hugely talented film actor or from the casts of True Blood and The Good Wife, but I know her primarily as one of my best friends for more than 25 years (disclaimer: she's also on the Board of Advisors for my film). If the movie didn't work, I was going to be in for an uncomfortable time writing a review. I needn't have worried. Preston's girl-power take on the Apatow-style bawdy bromance comedy (she loves to call it "a chick flick, but not for pussies") is a delight from start to finish. It's an examination of, among other things, how women talk about themselves and each other, by talking about men. Her three leads are perfectly cast. Alia Shawkat makes the audience squirm with all sorts of delicious uncomfortableness as the neurotic, weird new friend of the trio. Marcia DeBonis gives a brave comedic turn as the frumpy, hapless girl with a heart of gold. And Anne Heche is pure comedic lightning in a bottle. Sexy, sardonic, punky and utterly hilarious, hers just may be the best performance of the festival so far.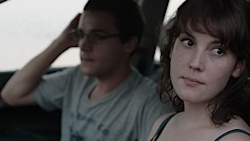 HELLO I MUST BE GOING
Another beloved actor-turned-director is Todd Louiso, most recently seen (with Preston, coincidentally) in last year's festival hit A Bag of Hammers but perhaps best remembered as Jack Black's unassuming foil in High Fidelity. Hello I Must Be Going is his third feature as a director and very possibly his best. It helps that his lead actor, Melanie Lynskey, is so fascinating to watch. As Amy, the young divorcee paralyzed by depression and loneliness but trying to put a good face on things while living with her parents, she's completely fearless in her performance. There's a lot of crying and morose staring, but there's a lot of laughing too (sometimes in rapid succession). And her chemistry with her unlikely teenage love interest, played by a wonderfully confident Christopher Abbott, is palpable. Blythe Danner stand out as well as Amy's tightly wound and often cruel mother. Last year's Melancholia was hailed as a sensitive treatment of depression, but I found it cold and soulless. Hello I Must Be Going isn't as ambitious, but it accomplishes more.
Others Tagged With