The Bippolo Seed and Other Lost Stories by Dr. Seuss
The good doctor wows from beyond the grave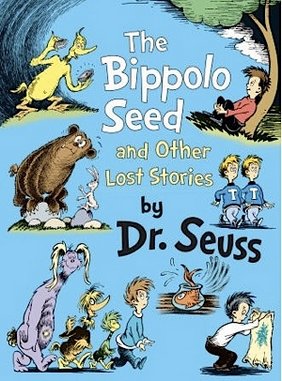 Whenever a great author dies, loyal fans begin holding their breath. They hope that one day, perhaps soon, a final work will emerge from the artist's private collection and sail into the marketplace for one last hoorah. Could there be a previously unpublished manuscript, caked in dust, lying at the bottom of a desk drawer? A character sketch locked away on the author's hard drive that might thrill us once more?
Literary history created such expectations with posthumous publications from paragons such as Joseph Heller, Leo Tolstoy, Jane Austen, T.S. Eliot, Carl Sagan, J.R.R. Tolkien, and Mark Twain. Some of Sylvia Plath's most memorable works included the Pulitzer Prize-winning The Collected Poems that came out after she committed suicide. Ernest Hemingway's Islands in the Stream, F. Scott Fitzgerald's The Last Tycoon, and Frederick Nietzsche's The Will to Power were all post-mortem successes. No wonder authors' deaths create so much conjecture.
Now another deceased author satiates the hope of followers. Ted Seuss Geisel, better known as Dr. Seuss, has released a new book 20 years after his death: The Bippolo Seed and Other Lost Stories, a collection of forgotten tales written and illustrated in familiar Seussian style.
As remarkable as the stories themselves is the account of how they came to be. Charles Cohen, a "dentist by profession and Seussiologist by choice," began hearing rumors that Seuss had published a handful of unique stories for Redbook magazine in the 1950s. These reports so intrigued Cohen that he spent nearly a decade tracking down the issues. After 50 years, seven obscure stories by Dr. Seuss now reemerge for the first time in book form.
Not surprisingly, each narrative bears all the marks of genius we've come to expect from Dr. Seuss: impeccable rhyme and meter, fascinating word inventions, and captivating storylines. In The Rabbit, the Bear, and the Zinniga-Zanniga, a single eyelash saves a rabbit from the grasp of an insecure bear. In Gustav the Goldfish, a boy overfeeds his pet fish, causing it to grow as large as a minivan.
These fairy tales give us more than mind candy. Their profound lessons prove surprisingly relevant for modern readers of all ages. Tadd and Todd, for instance, tells a story of identical twins in search of their individuality, a theme sure to appeal to those striving to stand out in our homogenizing culture.
In The Great Henry McBride, a boy fantasizes about the many careers he might one day pursue. Reluctant to settle on just one, he day-dreams of becoming a farmer, doctor, rabbit breeder, radio news broadcaster, and seal trainer—all at the same time. Seuss himself originally planned to be a teacher, and worked in advertising, sculpting, and screenwriting. In a time when most Americans stuck to jobs for decades in pursuit of their gold watches, Seuss tinkered with many professions the way many modern-day workers do. This story will resonate with restless readers today.
The Bippolo Seed was also a story well ahead of its time. In it, a duck with a practical wish for a week's portion of food, ends up asking for all kinds of unnecessary items:
"I wish," yelled the duck, and he started to scream,
"For eight thousand buckets of purple ice cream!
A trunk full of toothpaste! A big kitchen sink!
And lots of brass keyholes! And gallons of ink!
I wish for two boatloads of Baked Boston Beans!
And, also nine carloads of sewing machines!"
In the 1950s when Seuss penned this story, restrained conservatism ruled the day. Yet Dr. Seuss chose to compose a warning about greed. How could he have known how applicable the story would be today in a world of materialism, consumerism, and excess?
These seven tales also reflect an important shift in Seuss's approach to his work. Prior to World War II, he never considered children's books. But after witnessing the propaganda fed to Japanese and German children, he awoke to the importance of shaping young minds early on.
Also, only a few of Dr. Seuss's stories rhymed prior to 1950. But after meeting a three-year-old child who recited his most recent book by heart, he decided to employ rhyme forever more. "[A 6 ½ year old] can, of course, recognize some 1,500 spoken words when they enter his head through the holes in his ears," Ted later reflected in the New York Times Book Review. "But . . . he can recognize only about 300 when they try to get into his head through his eyes."
Every child remembers the first time a Suess book whisked him or her away to Whoville or into the legend of the Lorax. Seuss tales deposit themselves in the memory bank. Now we know why. The stories in this compilation deliver the first intentional audio-visual experiences that define the Seuss canon.
The Bipollo Seed and Other Lost Stories will likely be the final book of new stories by Ted Seuss Geisel the world will ever see. We'll recall a quote often attributed to the good doctor: "Don't cry because it's over, smile because it happened."
Smile, we have. For three generations, Seuss's work has made our grins grow like the Grinch's heart. His books triumph in their passion, imagination and unforgettable storytelling. Dr. Seuss's final gift from the beyond the grave is as memorable and magical as the ones that came before.
Jonathan Merritt is author of A Faith of Our Own and a columnist who has published more than 350 articles in publications such as USA Today, The Washington Post, and CNN.com. You can follow him, but please, only on twitter: @jonathanmerritt
Others Tagged With